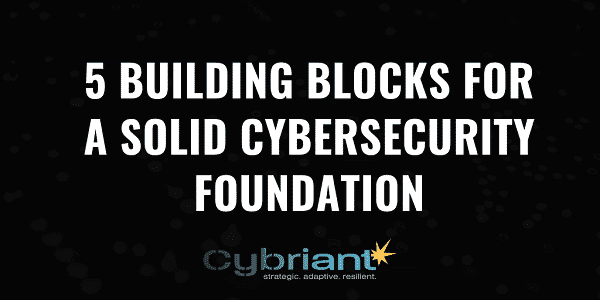 The cybersecurity sector is constantly growing and is already a part of the strategy of many organizations. This article will give you complete information on How to Build a Solid Cybersecurity Foundation.
What is the current state of cybersecurity?
Technology has evolved and innovated making our lives easier and our jobs more productive. Today, technology is controlling critical aspects of our society such as financial markets, electricity networks, air routes, hospitals, etc.
In addition, we increasingly rely on smart devices (telephones, cars, televisions, and refrigerators). This overwhelming pace of innovation and adoption of technology, in times of digital transformation and therefore increased the complexity of systems, requires global awareness of the security, fraud, and privacy risks that are increasing even more rapidly.
These risks of which senior management must be aware must be continuously measured and monitored, forming part of the organization's strategy and establishing a culture of cybersecurity.
Here we will learn about the main 5 building blocks for a solid cybersecurity foundation.
#1. SIEM (Security Information and Event Management):
Many abnormal attitudes, tendencies, and patterns are not in the ordinary. This is achieved by SIEM (Security Information and Event Management).
What the SIEM system does is centralize the storage and interpretation of records, so that it offers almost real-time analysis to the digital security team which can thus act much faster.
For its part, the SIEM system is collecting data in a central database to track trends and achieve patterns of behavior that can serve to detect others that are not common.
This system, of course, also provides central reports. From the union of both the acronyms, we are trying, SIEM, that can unite in a single system all the virtues of its two origins.
Undoubtedly, what is achieved by working with SIEM is not only better management of the working time of the security team and a greater facility to carry out their tasks but it also shortens the times of action, something fundamental for a company in case of threat urgent.
Learn more about Managed SIEM here.
#2. EDR (Endpoint Detection and Response):
The traditional protection systems which we all know as antivirus have until now pretty well-controlled viruses that have historically infected millions of computers. These types of viruses are executable files that aim to contaminate as many computers as possible so that they can be controlled and used for illicit purposes.
Unfortunately, cybercriminals have managed to find different ways to get control of computers, mobile devices, and web servers as they have a great ability to recycle their methods.
The EDR (Endpoint Detection & Response) technology promises to be the missing piece to complete that shield against the computer crime we need.
EDR produces a specific list for each client since their executables are analyzed and their behavior is ensured that they do not change. So if one of them gets out of the mold, an alert is activated.
EDR serves to detect new threats and avoid the need to block all malware by working specifically. EDR platforms monitor all executable programs by performing more thorough control.
Learn more about Managed EDR here.
#3. Patch Management:
Patch Management is also one of the parts of a Cybersecurity Foundation. Many large companies want to reduce the vulnerability of their systems. Mostly they make use of a security patch. As cybercriminals intensify their attacks, it is essential to maintain the pace for defense against these attacks.
A security patch is a cybersecurity solution for an organization and although no application is perfect, they are highly effective, even years after a program has been launched.
Its application depends not on the business sector but on the type of vulnerability that is had within the organization.
Types of patches according to their codes:
Patches to binary files: They constitute an update of the executable file of a program.
Patches to the source code: Includes a text file that details modifications to be made in the source code of the program in question.
Benefits of Patch Management:
Designed to work in On-Premise and Cloud environments.
Highly scalable.
Easy to install.
Fully automated and highly customizable.
Learn more about Managed Patch Management.
#4. Vulnerability Management:
Vulnerability Management is also one of the essential blocks for a solid Cybersecurity Foundation.
Vulnerability management is a continuous IT process consisting of the identification, evaluation, and correction of vulnerabilities in the information systems and applications of an organization.
Faced with sophisticated IT environments and the growing list of possible problems in the database and network security, IT departments with budgetary constraints find it impossible to deal with all known vulnerabilities at present.
Due to the high number of distributed update reviews and the difficulty in quantifying the value of security repairs for business managers, mitigating the weakness of critical networks and applications is a constant challenge.
Without a vulnerability management process that helps to prioritize correction tasks, companies can neglect to take the necessary measures to prevent harmful network attacks. In addition, vulnerability management not only helps the company to proactively solve urgent security problems but also contributes to compliance with industry standards.
Learn more about Real-Time Vulnerability Management. 
#5. Experienced Team:
An experienced team recognizes the high level of experience, specialization, professional quality, and demonstrated and accredited training of its cybersecurity solutions.
Our experienced team offers cutting-edge technology to offer various services such as secure web browsing and protecting its clients' access to services and applications hosted in the cloud.
We prevent the accidental download of malware that can cause information leaks or interrupt the activity in the company or organization. More than half of cybersecurity clashes registered are related to this type of attack which causes high economic damage and losses the esteem of the institution or company.
In addition to offering secure navigation services and protection of cloud services, we provide a comprehensive security service from its network that manages all the companies' environments to reduce the exposure of their resources to an attack and the risk of suffering a security incident.
If your organization lacks the resources required to build a solid Cybersecurity Foundation, do not hesitate to contact us. We are very well experienced and will help you to put the right solutions in the right place and manage them suitably.
Financial Cybersecurity: Are Banks Doing Enough to Protect You?
Build a Cybersecurity Foundation