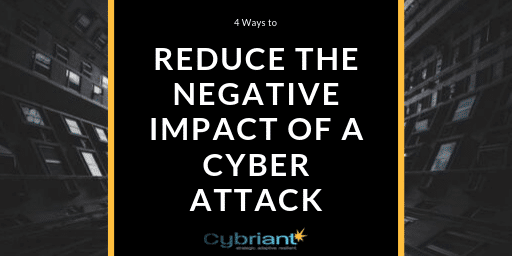 Cyber attacks are one of the most dangerous threats that businesses face each day. These cyber-attacks can lead to high costs and many hours of downtime while also devastating your reputation with clients.
Understanding the most effective ways to reduce the impact of these malicious attacks is essential in keeping your company well-protected from these evolving threats in the workplace.
A managed IT service provider can play a big role in keeping you protected from the schemes of these cyber criminals while also minimizing the impact of any cyber threat.
Here are four ways an IT service provider can reduce the impact of a cyber-attack in today's workplace.
#1 Modify Your IT Security Plan
It's possible to lay a security foundation to prevent, detect, and remediate cyber attacks. Consider a service like CybriantXDR that includes 24/7 security monitoring, patch and vulnerability management, and managed detection and remediation. Learn more about CybriantXDR here. 
Cybersecurity is always evolving due to the ever-growing number of threats businesses face in the workplace. Keeping your IT security up to date is essential in reducing the impact of a cyber-attack. A managed service provider can help ensure that everything is in place for maximum protection.
Access to the latest anti-malware software, email spam protection, and automatic security updates all play a key role in keeping your company safe from the devastating impact of a cyber attack.
#2 Create a Cyber Incident Response Plan
Creating a cyber incident response plan is highly effective in limiting the success of a cyber attack against your business. A managed service provider can develop a wide variety of cyber incident response plans to help you quickly recover data and reduce the amount of downtime for your company.
A managed service provider will also update these cyber incident response plans on a regular basis to ensure that everything remains up to date.
With Incident Response and Containment Services, you can take your incident response plan a step further. We can help you actively block and terminate cyber attacks.
#3 Develop a Backup and Disaster Recovery Plan
A backup and disaster recovery plan is crucial due to the wide range of threats businesses face on a daily basis. Cyber attacks aren't the only reason for data loss, as power outages, natural disasters, employee mistakes, and hardware failure can also lead to the loss of critical information.
An IT service provider can help you plan for a wide range of scenarios while uploading all of your essential data onto the cloud for an extra layer of protection. Cloud technology will give you the peace of mind to know that you can quickly recover your information at any time.
#4 Invest in Cybersecurity Tools
Investing in the latest cybersecurity tools is an excellent way to prevent or quickly recover from a cyber attack against your business. Vulnerability detection and the around the clock monitoring services from an IT provider are a few of the most effective ways to keep your company safe from cybercriminals.
A managed service provider can also use penetration tools to identify any areas of weakness within your IT infrastructure. Continually focusing on cybersecurity makes it much more difficult for hackers to become successful while also allowing your business to quickly bounce back from any cyber attack.
Cyber Attacks: Conclusion
Cybersecurity will continue to be a top concern in the workplace due to the prominent role of technology in today's work environment. A managed security service provider like Cybriant can help you quickly recover from cybersecurity incidents while also significantly reducing the negative impact of these attacks.
Changing your IT security, developing a cybersecurity incident response plan, creating a backup and recovery program, and investing in the most recent cybersecurity tools are all essential items from a managed service provider.
Read More: 3 Benefits of an Incident Response Plan.
PREtect: The Ultimate Cybersecurity Tool