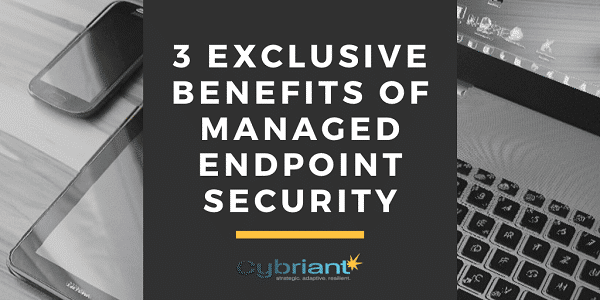 Here are 3 benefits of Managed Endpoint Security, a service that combines prevention, detection, and remediation for all endpoints in a managed service. 
Through Cybriant's MDR service, we provide prevention and detection of attacks across all major vectors, rapid elimination of threats with policy-driven response capabilities, and complete visibility into the endpoint environment.
What is Managed Endpoint Security?
Through a policy-based approach, Managed Endpoint Security requires endpoint devices to be compliant with specific criteria before those endpoints can access network resources.
Endpoints can include desktops, laptops, smartphones, tablets, and any other device that is connected to your organization's network.
Through our managed detection and response (MDR) service, Cybriant takes endpoint security management to the next level with a lightweight agent that is deployed on each endpoint to deliver autonomous protection. Our team will utilize this technology to successfully detect and respond to both internal and external threats before infecting your network.
Many organizations feel that antivirus is sufficient to protect their endpoints. But since many organizations have moved to a remote workforce in a completely digital environment, they are reconsidering the benefits of managed endpoint security. Here are cyber threats that will make it through your antivirus. 
Three Exclusive Benefits of Managed Endpoint Security
#1. Prevent Malware
Malware is any program that is detrimental to a computer user. Malware consists of computer viruses, spyware, worms, and Trojan horses. These malicious programs can execute a selection of functions, ranging from stealing, encoding, or deleting delicate data, modifying or hijacking essential computing tasks, and monitoring users' computer activity without their consent.
Read more, "Comprehensive List of All Types of Internet Threats"
If you are considering a SIEM compared to endpoint security, one of the benefits of managed endpoint security is prevention. When you work with a team of security analysts that are watching your network on a 24/7 basis like Cybriant, we use AI and machine learning to anticipate what your users are doing on their endpoints. When a potential threat is encountered, we can eliminate the threat before it can execute.
A quick note about SIEMs…
A SIEM that is performing at peak performance should outperform EDR in detection. Detection is the key to SIEM. It's important to have a team that can help respond to any problem that is detected. A SIEM can be deemed pointless if it is only noise and you aren't able to respond to any potential threats.
Managed Endpoint Security uses static-based machine learning to prevent malware attacks pre-execution and behavioral-based machine learning to prevent malware, exploit, and script-based attacks that can't be detected pre-execution.
The technology behind Cybriant's MDR solution replaces or enhances your current antivirus by using machine-learning technology that does not rely on signatures and does not require daily/weekly updates or recurring scans.
Cybriant's MDR service is tested against all major categories including:
RTTL: Response to the most prevalent malicious samples according to the AMTSO Real-Time Threat List
AVC: Response to most recent and prevalent malicious samples in the AVC database
WPDT: Performance on the top malicious websites compared to traditional business AV technology running in tandem
FPs: Ability to parse through false positives
The results include incredible benefits of managed endpoint security. Our MDR service performed at the top of the class with:
100 percent malware detection across all four categories
0 false positives
15 Shocking Stats About Endpoint Security Solutions
 #2. Prevent Breaches
Managed endpoint security provides vital protection against preventing breaches because many times when a company gets hacked, it's because there is a computer, device, or website they didn't know they own. Inventory every asset you own to determine what company resources are online and where you might be vulnerable. MDR or Managed EDR is now considered an essential requirement for all organizations to help increase the visibility of corporate assets.
An asset inventory is vital to the success of your MDR service. Once completed, you will have a greater understanding of any threats that are currently residing on your endpoints. Using AI, our analysts will stamp out a potential compromise before it has the chance to harm. Along with a curated set of forensically relevant data on your endpoints, You also get script control, memory protection, application control, and device usage management to block additional threat vectors.
Since many MDR solutions in the marketplace are complicated to manage, clients enjoy the ease of outsourcing their managed endpoint security to Cybriant. By utilizing a service like Cybriant's MDR service, organizations have access to a solution that can be managed and automated into their existing security flow, which will help lower costs and improve efficiency.
If you have been involved in a cyber security breach, here are important next steps to take. 
#3. Prevent Incidents
Advanced persistent threats are the most difficult to detect.
An APT or Advanced Persistent Threat is a sophisticated and coordinated network attack that allows an invader to access a network and to remain there, undetected, for a significant amount of time. The typical attacker has a goal of stealing data; APT attackers often set their sights on businesses and organizations with valuable secure data. An APT attacker often targets government agencies, financial institutions, and other businesses dealing with high-value information. Is your Business at Risk from an Advanced Persistent Threat?
To prevent these types of threats you need the right technology as well as the right people watching the technology. The greater benefit of managed endpoint security is that you will maintain a constant watch to ensure the fastest detection and response with our seasoned security analysts as your extended security team.
Threats are taken through our multi-step process, conducting sample analysis as needed. Not only does MDR from Cybriant help reduce the time between breach and detection, but we can also help stop the threat before it can fully execute.
Our experts utilize a static AI engine to provide pre-threat execution protection. The static AI engine replaces traditional signatures and obviates recurring scans that kill end-user productivity. By tracking all processes, our team can detect malicious activities and use behavioral AI technology to respond at top speed. We can detect and stop file-based malware, scripts, weaponized documents, lateral movement, file-less malware, and even zero-days.
Managed Endpoint Security vs. Antivirus
The main difference between managed endpoint security and traditional anti-virus is that our MDR solution will discover the threat faster than the antivirus.
The advanced technology used in our MDR service protects at the agent level before the attack occurs, which can eliminate the need for antivirus.
As a managed service, our team is tracking all processes and their interactions at the agent level, utilizing the technology to detect malicious activity, which will trigger a lightning-fast response to protect your network. We can also help roll back endpoints to their pre-infected state if necessary.
With technology becoming an integral part of business, the digital perimeter of modern-day enterprises keeps on expanding rapidly. Traditional antiviruses are insufficient to protect such a large scale and continuously expand the digital perimeter.
Antiviruses are more of a decentralized security system that falls short of providing adequate security to the ever-expanding digital networks. This is why so many organizations are comparing antivirus vs. edr. The IT network and perimeter of enterprises have witnessed even faster growth due to the mobile revolution. While a growing digital network and perimeter can be beneficial to the business, it is also more vulnerable to cyber attacks as it can be breached from multiple endpoints.
This is where the EDR security systems play a vital role in ensuring the safety and security of the digital perimeter. They provide centralized security and continuously monitor the security threats across all the endpoints of the network. It provides much better and holistic protection to your digital network from hackers who are also growing smarter.
Read more about the differences between antivirus and endpoint security solutions. 
For more on the benefits of managed endpoint security and how it can benefit your organization, learn more at https://cybriant.com/mdr
Learn More About Cybriant's MDR Service