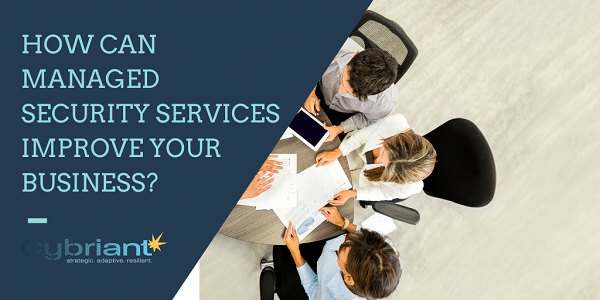 Hackers are targeting your business. How can you stop them? Do you have a team of cyber security analysts to monitor your networks and ensure no bad guys are getting through? If not, consider Managed Security Services including Managed SIEM and/or Managed Detection and Response.
There are so many benefits of managed security services. Here are a few ways that outsourcing the management of your security monitoring could potentially improve your business:
Compliance Made Easy – Do you have stringent compliance requirements? Most companies do. A SIEM will help you meet the security logging requirements, but don't stop there. When you outsource the management of a SIEM, you have the expertise of a team of security analysts watching your network around the clock.
Learn Where Attacks Come From – Insider threats are becoming more and more common. Understanding where cyber threats come from is vital cyber threats come from so you can understand how to alleviate them. Our MDR solution will help stop malware in its tracks when a user mistakenly clicks on a phishing link.
Managed SIEM
A managed SIEM solution logs all activity from systems, devices, and applications managed SIEM solution, all activity from systems, devices, and applications are logged in a central repository. Our team helps analyze potential threats that are identified and notify you when action needs to be taken. By tracking all processes, our team is able to detect malicious activities and use behavioral AI technology to respond at top speed.
MDR
We can detect and stop file-based malware, scripts, weaponized documents, lateral movement, file-less malware, and even zero-days.
Learn About Threats on Your Systems – Our MDR solution uses AI so when a credible threat is detected, our team will retrieve the process history and analyze the chain of events in real-time and determine the validity of the threat. Once identified, the malicious activity is immediately stopped in its tracks and our team guides you through the remediation. This remediation process provides astonishing insight into the data of the threat.
You'll be able to help your organization reduce the attack surface by learning how you've been compromised.
Related: 3 Benefits of an Incident Response Plan
More Benefits of Managed Security Services
Executive Reporting and Compliance Reporting – While most SIEM solutions provide out-of-the-box reporting, they tend to leave much to be desired. Our managed SIEM team will provide custom reports based on your needs. No matter whether it's HIPAA, PCI, GDPR, or any other compliance regulation, reporting is critical in today's data-sensitive world. By using our Managed SIEM service, our team can apply constant vigilance on any security issues that may be problematic in terms of compliance.
Cyber Threat Remediation – Many IT departments are overwhelmed by the number of alerts that come in when attempting to manage a SIEM internally. When you outsource the management of your SIEM, our team will help reduce the number of false alerts, tune your SIEM so critical alerts are addressed immediately, and we'll help you remediate the threat. Outsourcing security services will expand your team to an around-the-clock team of cybersecurity experts that will walk you through cyber threat remediation.
Specialist Expertise – The cybersecurity skills shortage is still rampant. By outsourcing the management of your SIEM, you are not only benefitting from SIEM technologies but also access to genuine cybersecurity expertise. Our team is immersed in cybersecurity threats daily and we are well-equipped to respond quickly and effectively to any threats.
Customer Confidence – Equifax, Capital One, and so many others have hit the headlines with the unfortunate news of a breach. Customer confidence is lower than ever after these attacks. Many small companies go out of business after a major cyber attack. When you work with an experienced company with an excellent reputation, like Cybriant, you show your customers that you take the security of their data seriously.
If you aren't ready to jump into a managed service, consider our Incident Response and Containment service. When you are attacked, you'll have a team of experts ready to respond and remediate.
Why use a Managed Security Service Provider (MSSP) for your cybersecurity?
Consider PREtect for Managed Security Services