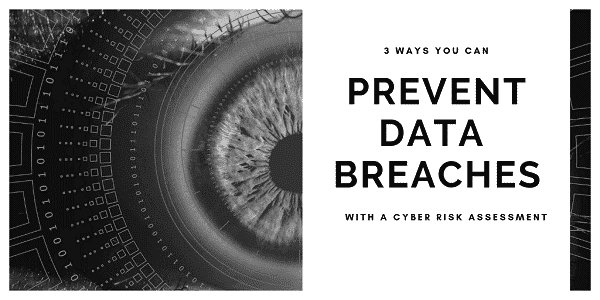 At Cybriant, we recommend every new client begin with a cyber risk assessment so your organization will have a full assessment of your current state of security, any gap analysis, and recommendations. Many compliance regulations stipulate the need for an annual risk assessment. Here are three ways a cyber risk assessment can help prevent data breaches.
Companies that focus on protecting their assets from hackers may overlook threat detection. As a result, threats to the network often go undetected for weeks, leaving the organization vulnerable to data theft. Learn how a security risk assessment can show your organization where it is vulnerable to a cyber attack so you can plug holes in your defenses before your organization suffers a breach.
#1 Identify Loopholes in Your Threat Protection
A security risk assessment shows where your system is strong and where it is weak. Using the data, you can hone in on loopholes that represent easy access points for hackers and come up with an action plan to fix things.
Since cyber risk assessments show the broader spectrum of your company's cybersecurity system, they are useful when key stakeholders need to be talked into making additional investments in cybersecurity. The assessment provides demonstrated proof of vulnerabilities. When confronted with such compelling evidence, many naysayers often change their tune and finally fund the infrastructure that is needed to prevent a data breach.
#2 Fill Gaps in Cybersecurity Coverage
The typical company has several network protection systems in place. These often act as a patchwork, because the systems may be cobbled together from a variety of vendors. The cyber risk assessment will show you where gaps in coverage exist–which hackers can exploit to gain access to your system. Once you're aware of these gaps, you can identify vendors that offer solutions to fill coverage gaps and fully protect your valuable data.
#3 Comprehensive Cybersecurity Protection
It can be easy to wonder if you are doing enough when it comes to cybersecurity. With a cyber risk assessment, you can stop asking this question because you will have a personalized road map to comprehensive protection. All your organization needs to do is follow the specific actions suggested by your organization's threat assessment to know that you are protected to best-in-class capabilities.
Cybersecurity is something of a cat-and-mouse game. As companies arm themselves with better protection, hackers either search for easier targets or get more creative in their attacks. By prioritizing your data safety through periodic threat assessments, you can fine-tune your defenses and reduce the likelihood of suffering a devastating data breach.
Cyber Risk Assessment
Our Cyber Risk Assessment is required when determining your security program's needs or success. Following NIST guidelines, our risk experts perform interviews, documentation analysis, and walkthrough of physical areas to determine the state of the client's security program. Our Cyber Risk Assessment is a useful tool for any phase of implementing a security program.
Take a look and get started today: https://cybriant.com/assessments/