Is your organization using these cyber security solutions? These are the basic tools and services that many companies are using to protect their assets.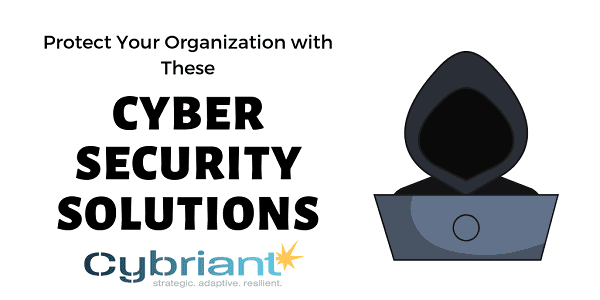 Cyber Security Issues
Your organization is like a system that has various independent units that work together to meet certain goals, right?
In order for such organizational units to work efficiently, technology has become part and parcel of each and every organization. With the advancement in technology, more and more companies are turning to computers to automate processes, generate data and even to store very crucial information.
There is no doubt that the application of computer science has enabled organizations to enhance cost-effective operations, efficiency as well as reduced time in which organizations take to meet their set goals.
Unfortunately, as technology has advanced, so have hackers and nation-state cybercriminals. New challenges arise almost daily because of the constant threat of cyber security issues. 
Cyber Security Solutions
Considering that computer systems can be infiltrated just like any other system, there has been a demand for new cyber security solutions.
With these cyber security strategies, these organization has been able to bar leakage of critical information, theft of information, unauthorized system access and unauthorized malicious system restore activities aimed at draining off any information from an organization's databases.
We recommend starting with a cybersecurity framework like NIST-CSF. When you have a solid framework in place, decisions on which cyber security solutions to add to your organization are much easier. 
Here are the common cyber security solutions that many organization utilizes and most can benefit from: 
Encryption of files and applications
In most cases, data can be stolen from an organization by being transferred using drives and even through emails. In fact, even state organizations have experienced such a problem before. With that idea, organizations have resorted to encrypting their files containing very crucial data.
Sometimes, even very crucial applications such as fund transfer application can be secured by encrypting any access information. Encryption might be a cyber-security solution that your organization needs. For example, if your organization is a financial institution dealing with huge amounts of money, then you might need to apply encryption in making sure that crucial customer information and other types of data are always encrypted.
It is also very crucial to make sure that data which is in transit must be encrypted since passwords are not enough. Hard drives can be cracked and information salvaged. Thanks to the advanced technology which is like a double-edged sword.  
The Unified Threat Management (UTM)
UTM is another cyber security solution that your organization might need. It is a solution which is in the form of a pack of different cybersecurity solutions. Each solution can always be triggered whenever there is a bridge of security within your organizations' systems.
For example, in case of various threats that have been introduced into the database with the aim of corrupting it, an antivirus solution will be triggered. However, traditional antivirus may not be enough to produce your organization. Consider endpoint detection and response which includes an antivirus solution. It is, however, very crucial to ensure that the various solutions managed by UTM are compatible with one another. Incompatibility may jeopardize things further.
Intrusion management and detection system
This is a system which can also commonly known by its initials, IDS, and IPS. IDS stands for Intrusion Detection System while IPS stands for Intrusion Prevention System. With this solution, any unwarranted and unauthorized entry into your organizations' system is managed and detected swiftly.
For example, your organization is a security firm which handles investigations and keeps critical information in a database. Unfortunately, considering the nature of such an organization, a malicious entry or access is inevitable. With that, when unauthorized entry is detected, the Intrusion Detection System will send a signal to the server or the administrator that someone is trying to gain entry into the organization's system. In some cases, such a signal can trigger an automatic UTM. Your organization will have been saved from the theft of very crucial information.
Cybriant provides a 24-hour monitoring service for cybersecurity detection, learn more here. 
Web Filtering and Malicious Detection
It is very common to find that most organization normally have a flaw in its system security based on careless employees.
Sometimes, the organizational systems are linked to the web via troubleshooting tools. In an event where an employee accesses the website from such a link, then his/her origin can be traced back to the organizations' system or website.
It is possible for data loss to happen in the event that an unauthorized interested party hits back following such a route. In order to avoid this, the right cybersecurity solution is web filtering. With web filtering, there will always be limits in which your employees can navigate the website while logged in as a company user. With such a solution, an employee will be denied access and advancement towards harmful websites.
At Cybriant, we take this to the next level and provide a monitoring service that will help prevent malware before it can execute on your endpoints. Learn more about Managed EDR here. 
Advanced Disaster Recovery Solution
Sometimes, an organization's database information could completely be whitewashed to a point where all critical data and information is lost.
When that happens to your organization, the best solution is an advanced disaster recovery solution. The term disaster here means a total loss of extensive loss of data and information. In order to mitigate such cyber issues, it is very crucial for your organization to consider having its own disaster recovery solution.
With such a solution, you will be able to recover all your lost data from drives and from data recovery applications if any. The loss of data is a very detrimental thing to an organization and in fact, it might lead to huge loses and even closure of an organization.
Multi-Level Identity and Access Management (IAM)
This is another, last but not least of the various cyber security solutions that your organization may need. It works by security login and access at any given time.
Users are always required to identify themselves using various levels of passwords. With this solution, your employees will be expected to identify before accessing your organizations' system.
In fact, all the activities of each and every user can be tracked against time and even the amount of information they have pulled out of the database.
Learn more about our complete line of cyber security solutions.
Consider PREtect for your Cyber Security Solutions