Which cyber security testing tools should you use in 2019? Check out the list of the top tools our security experts are using.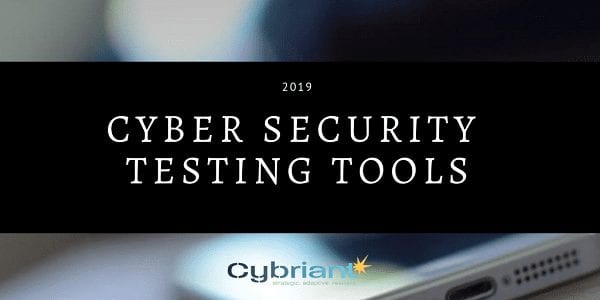 Cyber attack is one of the nightmares of big companies.  Keeping their confidential records from being hacked is their biggest concern.  Banks, multi-national corporations and defense departments of every countries, they are all at risk.  This is the reason why, most of them invested a lot for securing their computer system and resulted in employing cyber specialists and buying modern technology.
Security Testing Tools
Cyber security is the reason of the birth of these many cyber security penetration testing tools.  These tools are use by security experts to test every computer systems for vulnerability of being hacked.  This testing tools are designed for different area of the system, checking its designed and pinpointing the possible area of attacked.
Here is a list of several security testing tools:
Metasploit. A collection of penetration tools which is used by cyber security experts to manage security evaluations and discover vulnerabilities. It used to evaluate the security condition of your infrastructure.
NMAP. Otherwise known as network mapper, this tool is used to monitor the host server and perform mapping of server vulnerability.
Wireshark. It is a very handy tool that is helpful in keeping up the real time details, of every activity that transpire in your system. It is an analyzer and an sniffer, which helps assess the vulnerability of your network.
Aircrack-ng. Set of utilities used to analyzing the weakness of a WIFI network. It captures data packet and export it to text files for analysis as a way of securing your WIFI network.
John the Ripper. Traditional password is the most popular security risk, as cyber criminals tend to take advantage of this weakness. Hackers used these passwords to compromise the system, by putting on damage on it or stealing important information. Expert used this tool, to simulate attack, to pen point its vulnerability.
Nessus. It is a paid-for tool, used to scan for vulnerabilities in your system. Easy to use, it also provides fast and accurate scanning for your system. In just a click of a button, it can also provide you with a complete and accurate result of the weaknesses of your network.
Burpsuite. Widely used, this is a utility to check the security of a web-based application. Consisting of various tools, it carries out different security tests. The tests includes mapping of attack surface, analyzing request and responses between servers and many more.
These are just some of the widely known cyber security penetration tools, which are being used by cyber security experts, to secure important credentials of big companies and other important government agencies worldwide.  It is up for the security experts, to determine, what types of tools your system requires.
Cyber security is a worldwide problem and unless this is addressed properly, every human and every businesses in this world, are at risk, of losing their vital information.  This information can be used by these criminals or sell it to syndicates, to be used in their illegal activities.  
Security Testing Tools: Penetration Testing
Penetration testing is commonly user service to check the viability of your cyber security stems.
When a penetration test is launched, the aim is to carry out a risk assessment on your organization's security system and controls. This is done by evaluating and picking out the parts of your security firewall that may be targeted by attackers. These parts are then subjected to an attack through a penetration test. When vulnerabilities in the security system are detected, the individual or company may then find out ways to eliminate the potential risk that may arise from these loopholes. This may be done by either getting rid of the defective systems or strengthening them to ensure that they are not exploited.
Read more about the 7 Reasons you need a Penetration Test in 2019.
The evolution of the information technology is so fast, that everything is already dependent to computerization of everything.  From business industries, to governments in every country, they are all dependent on computers and the internet.  With this development, cyber security experts are trying their best, to be able to find ways to protect computer systems of big corporations, government agencies and private individuals.  The goal here is to keep their important information's secured from being hacked.
What are these Security Penetration Testing tools?
Security Penetration Testing Tools are instruments that are used by cyber security experts, to check your computer system's vulnerability to such cyber attacks.  It's is because of the fast evolution of the computer technology, that system updates are inevitable.  Computer system should be tested, to able to determine, which part of their system is vulnerable. These is the reason employing these security testing tools.
Here is a list of some of popular Security Penetration Tools in addition to the tools listed above: 
Wifiphisher. This tool is an access point tool.  Using wifiphisher in assessment will lead to actual infection of the system.
Burp suite. This tool is best used with a web browser.  This tool is essential to check applications of their functionality and security risks.
OWASP ZAP. Another application tool, this one is better used for starters in application security.
CME. This exploitation tool helps to automate assessing the security of large active directory network.
PowerSploit. It's a set of modules to be used for assessments.
Immunity Inc.-Debugger. This tool is use by security experts to write exploits, analyze malware and a lot more features.
THC-Hydra. A network log-in cracker, the tool holds several details to allow users to get started.
When is it necessary to do the testing?
The frequency of testing varies from each team.  It is up to the teams own life cycle and the availability of its application and resources.  Key exercises can performed with in a life cycle, such as in the design mode, while others can take place in the implementation mode.
A wider network and application analysis requires the acceptance of the customer and also done in the deployment phase of the project.
The methods used in penetration testing are:
Internal Testing.  Here, a tester which has the capability to access beyond the firewall will do a simulation attack on the system.
External Testing. This method targets company data that are visible to the web, such as the company's website, emails and servers.
Blind Testing. Given only the name of the target, the tester gives security personnel real time scenario of an application assault.
Double Blind Testing.  Here in this method, security personnel have zero knowledge of the simulation, which make them unprepared of such eventuality.
Targeted testing.  This method shows teamwork between the tester and the security personnel, giving them a chance to hear from a hacker's mindset.
Of course, if these tools aren't familiar to you, penetration testing is a steep learning curve. It's best to stick with a professional to do the work for you.
Conclusion: Security Testing Tools
There are many security testing tools on the market today. But none can match the experience of an educated and tested security team or individual.  Contact us for more questions about penetration testing. 
Assessment and Testing Services