Requirement or need results in more of inventions. Threat Hunting with Managed EDR is the results of the massive cyber threat landscape we are dealing with in 2019. With the new breaches cropping up on a daily basis, there is a race going on between cyber-defenders and hackers. This has resulted in the managed security service disruption.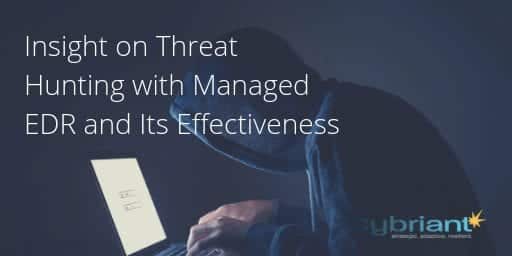 The advanced threats of today are designed to circumvent the defenses of conventional cyber security. This is where EDR, Endpoint Detection and Response, has helped many organizations defend themselves.
They eliminate the advancing threats before they try compromising the data. This leverages the capabilities of automation and response. There is also endpoint protection using machine learning, application control, behavioral analysis, vulnerability protection, and other techniques enabling to work seamlessly.
What is EDR?
EDR represents the Endpoint Detection and Response that help in detecting a threat. These are the tools focused mainly on detecting suspicious activities and investigate other hosts/endpoints problems.
It is a new solutions category relatively that is referred to as EDR. The EDR is a technology emerging to address the continuous need for monitoring the advanced threats and to respond.
How Does EDR Work?
EDR, Endpoint Detection and Response works by monitoring the network events and endpoints. It records in a central database the information and this result in detection, further analysis, reporting, investigation, and alerting.
When you outsource the management of your Endpoint Detection and Response (EDR), security analysts are able to: 
Perform root cause analysis for any blocked threat or any other artifact deemed important found on an endpoint
Proactively search endpoints for signs of threats commonly referred to as threat hunting
Take decisive action when a security incident, or potential incident, is identified
Ongoing detection and monitoring are done using analytics tools. These help in identifying the tasks that promote the security overall state. It is done by deflecting common attacks. It also facilitates quick identification of attacks ongoing, if any, including external attacks and insider threats, besides enabling rapid response towards the detected attacks.
Of course, the fact stays that not all the EDR tools work typically or offer the same capabilities in the available space.  In fact, some tools of EDR help in performing more analysis on agents, while some perform backend data analysis through a management console.  On the other hand, a few differ in the collection of scope and time and may also differ in their integrating ability with the providers of threat intelligence. However, all the tools of EDR perform essential functions such as:
Providing means to monitor continuously and to perform analysis to identify readily
Work with tools to detect instantly and to prevent advanced or advancing threats.
 EDR capabilities
 The capabilities of the EDR tool reveal a broader security function set. This is a tool offering EDR apart from application control, network access control, device encryption and control, data encryption, privileged control, and a lot more capabilities.
The EDR tools are appropriate for endpoint visibility even in multitudes. Thus, endpoint visibility falls in three categories:
Data exploration
Data search and investigation
Detection of suspicious activity
Most EDR tools tackle the response portion of these capabilities. They make use of sophisticated analytics that helps in identifying the patterns and also in detecting the anomalies such as unique processes, unrecognized or strange connections, or even risky activities marks appearing on baseline comparisons. The endpoint detection and response, EDR tools permit user-led analysis of data to be done manually, though this can be an automated process such that the anomalies will trigger alerts when instant action or investigating further is required.
EDR, Endpoint detection and response is a budding field, though the capabilities of EDR are becoming quickly an essential element for any enterprise security solution. There may be enterprises or companies with a requirement for advanced threat protection and they can consider the EDR very well as it features an in-demand capability. There are continuous benefits as it offers visibility into the data activity at all times. This makes the EDR tool very valuable and its response immediately ensures the security component of any enterprise.
EDR solutions features include:
Detecting ability and preventing hidden exploiting complex processes than some simple pattern or signature.
Data collection enabling to create a repository that will be used for analytics.
Automation of alerts and defensive responses on detecting an attack by turning off the specific processes.
Threat intelligence including visibility of processes, applications, communications, and endpoints to detect nasty or spiteful activities and to abridge security incident response.
Forensic capabilities and this is because if you find an attacker is already inside, there is a need to plunge into their activities to comprehend their movements so that the breach impact may be minimized.
Threat Hunting with Managed EDR
Endpoint Detection and Response, EDR is highly powerful to detect attacks. EDR offers rapid actions in response as required enabling to contain the threat immediately. However, if you plan to proactively hunt a threat, it is not easy to do it all alone. That's where threat hunting with Managed EDR is incredibly helpful. 
Basically, understanding the EDR platforms categorization capabilities and automated detection is required to bypass successfully an adversary present on the systems. Hackers are very intelligent and they mostly get a better hand. Now it is the role of the hunters to look for granular logs collected by the EDR solution as the endpoint activity. These logs may be really powerful while hunting for historical events or adversary behaviors while leveraging. Such hunting type is the widely used technique for hunting known as 'Historical Search', and this is the primary technique.
Regrettably, most EDR solutions are less effective in threat hunting platforms and so there is a need for additional analytics solutions. This is needed to perform hunting to understand post-compromise behaviors and it is done using more advanced analysis. Thus, you may bank upon EDR as a data analytics solution or a log source.
Role of Managed EDR
Managed EDR refers to the agents monitoring and proactively hunting continuously for threats, known and unknown in each of your endpoints. Thus, they provide the complete visibility of potential threats. As the analytics of the advanced endpoint identifies suspicious behavior, the AI-driven platform examines the threat. With the validation of the threat, instant action is taken to contain the endpoint or points compromised, the threat is resolved, and the endpoints are protected from similar attacks in the future.
Benefits of Managed EDR
Detects identified and unidentified threats
Managed EDR service is not focused only on identifying known threats. In fact, the advanced analytics of EDRs identify even the unknown previous threats and contain them, besides defining the attacks root-cause.
Stop the attacks in-progress
Managed EDR service is of immense help as it monitors the endpoint behavior continuously and it also uncovers the unidentified previously attacked campaigns even before they attain their objective.
High-speed response
Detection and the response services are done under one platform. In fact, this also is combined with advanced machine learning featuring skilled security staff that the immediately find a solution to any security incident the moment it is identified to be cutting coordination time.
Conclusion
In today's massive threat landscape, it's best to keep all your endpoints covered. And having the ability to stop a malware attack before it happens is a benefit of EDR. When you outsource the management of EDR to a trusted cybersecurity firm, you allow for 24/7 threat detection. Threat hunting with managed EDR is a vital aspect of thorough cybersecurity strategy. 
Consider Threat Hunting with Managed EDR