Managed Endpoint Security combines prevention, detection, and remediation for all endpoints in a managed service. Here are 3 benefits you may not be aware of.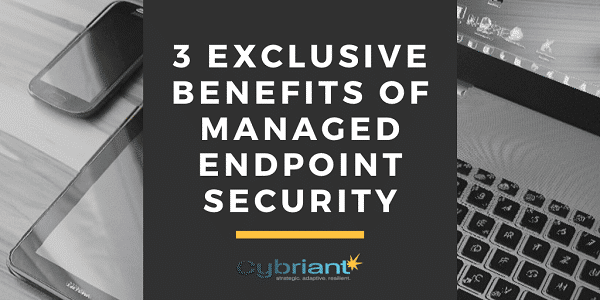 Through Cybriant's MDR service, we provide prevention and detection of attacks across all major vectors, rapid elimination of threats with policy-driven response capabilities, and complete visibility into the endpoint environment.
What is Managed Endpoint Security?
The official definition according to TechTarget is:
Endpoint security management is a policy-based approach to network security that requires endpoint devices to comply with specific criteria before they are granted access to network resources. Endpoints can include PCs, laptops, smart phones, tablets and specialized equipment such as bar code readers or point of sale (POS) terminals.
Through our managed service, Cybriant takes managed endpoint security to the next level with a light-weight agent that is deployed on each endpoint to deliver autonomous protection. Our team will utilize this technology to successfully detect and respond to both internal and external threats before infecting your network.
Three Exclusive Benefits 
#1 Prevent Malware
Managed Endpoint Security uses static-based machine learning to prevent malware attacks pre-execution and behavioral-based machine learning to prevent malware, exploit and script-based attacks that can't be detected pre-execution.
The technology behind Cybriant's MDR solution replaces or enhances your current antivirus by using machine-learning technology that does not rely on signatures and does not require daily/weekly updates or recurring scans.
Cybriant's MDR service is tested against all major categories including:
RTTL: Response to the most prevalent malicious samples according to the AMTSO Real-Time Threat List
AVC: Response to most recent and prevalent malicious samples in the AVC database
WPDT: Performance on the top malicious websites compared to traditional business AV technology running in tandem
FPs: Ability to parse through false positives
The results? Our Managed Endpoint Security service performed in the top of the class with:
100 percent malware detection across all four categories
0 false positives
 #2 Prevent Breaches
Managed endpoint security provides vital protection against preventing breaches because many times when a company gets hacked, it's because there is a computer, device, or website they didn't know they own. Inventory every asset you own to determine what company resources are online and where you might be vulnerable. MDR or Managed EDR is now considered an essential requirement for all organizations to help increase visibility on corporate assets.
Since many MDR solutions in the marketplace are difficult or complicated to manage, clients enjoy the ease of outsourcing their managed endpoint security to Cybriant. By utilizing a service like Cybriant's MDR service, organizations have access to a solution that can be managed and automated into their existing security flow, which will help lower costs and improve efficiency.
#3 Prevent Incidents
Advanced threats are the most difficult to detect. To prevent these types of threats you need the right technology as well as the right people watching the technology. With managed endpoint security you will maintain a constant watch to ensure the fastest detection and response with an extended security team.
Threats are taken through our multi-step process, conducting sample analysis as needed. Not only does MDR from Cybriant help reduce the time between breach and detection, we can also help stop the threat before it can fully execute.
Our experts utilize a static AI engine to provide pre-threat execution protection. The static AI engine replaces traditional signatures and obviates recurring scans that kill end-user productivity. By tracking all processes, our team is able to detect malicious activities, and use behavioral AI technology to respond at top speed. We can detect and stop file-based malware, scripts, weaponized documents, lateral movement, file-less malware, and even zero-days.
Managed Endpoint Security vs. Antivirus
The main difference between managed endpoint security and traditional anti-virus is that our MDR solution will discover the threat faster than antivirus.
The advanced technology used in our MDR service provides protection at the agent level before the attack occurs, which can eliminate the need for antivirus altogether.
As a managed service, our team is tracking all processes and their interactions at the agent level, utilizing the technology to detect malicious activity, which will trigger a lightning-fast response to protect your network. We can also help roll back endpoints to their pre-infected state if necessary.
For more on the potential of managed endpoint security and how it can benefit your organization, learn more at https://cybriant.com/mdr
Learn More About Cybriant's MDR Service