Are you prepared to defend your entire organization against the bad guys? Check out our list of cyber security monitoring tools to be sure. 
---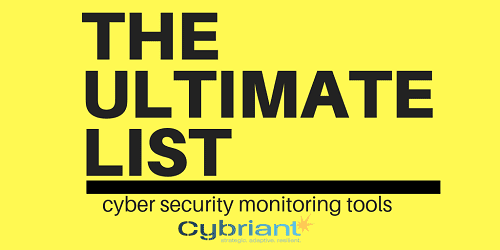 Cyber Security Monitoring is a huge responsibility for every business no matter the size. You must be prepared to defend against malware, hackers, internal sources, and so much more.
Be sure you have these cyber security monitoring tools in place:
SIEM
Security Information and Event Management (SIEM) – A SIEM platform centrally collects data from multiple devices on your network, including your existing security appliances. Through an advanced correlation engine, it is able to proactively identify security events not otherwise detected by standalone security technology.
A SIEM system centralizes logging capabilities on security events for enterprises and is principally used to analyze and/or report on the log entries received. The analysis capabilities of SIEM systems can detect attacks not discovered through other means and can direct the reconfiguration of other enterprise security controls to plug holes in enterprise security. Some of the top SIEM products — assuming an attack is still in progress — can even stop detected security breaches.
SIEM is one of the ultimate cyber security monitoring tools and collects data in multiple ways from your system or network, including your existing security appliances. Your SIEM gives us a "Big Picture" of your all security events. With the right security experts monitoring your SIEM, you'll know when and where an event occurs.
Managed SIEM is included in PREtect CORE. Find out more here. 
Free Research Tools
There are many free research tools available to research cybersecurity threats that are effective cyber security monitoring tools. The key factor is that the person doing the research needs to have a comprehensive knowledge of all the pieces involved. AlienVault Open Threat Exchange is the neighborhood watch of the global intelligence community. It enables private companies, independent security researchers, and government agencies to openly collaborate and share the latest information about emerging threats, attack methods, and malicious actors, promoting greater security across the entire community.
Check it out here: https://otx.alienvault.com/
Trained Experts
Of all the cyber security monitoring tools available, having a trained expert on your team could be one of the most critical. A common mistake we see is when organizations add cyber security monitoring to their overstaffed IT team's plate. Untrained employees aren't able to resolve cyber security issue immediately or even know what to look for.
At Cybriant, we recommend outsourcing to a professional cyber security monitoring company like us. The Cybersecurity experts on our team are professionals who have attained specialized in-depth expertise and proven knowledge in the essential areas of proactive cyber threat detection and mitigation. Our cyber security experts act as an extension of your IT team, understand your infrastructure, and are ready to defend your network.
Network Traffic Analysis Framework
Due to the increase in internet-based services, the size of network traffic data has become so large and complex that it is very difficult to process with the traditional data processing tools. Cyber security monitoring is a major problem for organizations that have a large amount of network traffic. Fast and efficient cybersecurity intrusion detection is a very challenging problem due to big and complex nature of network traffic data. A realistic cybersecurity intrusion detection system should be able to process large size of network traffic data as fast as possible in order to detect the malicious traffic as early as possible.
Cybriant helps defend your network through our tiered PREtect services. Find out more at PREtect: cybriant.com/pretect.
Disassembler
The Disassembler is a program that converts machine code into the low-level symbolic language that can be read by the human. The disassembler is a reverse engineering cybersecurity monitoring tool. Traditionally it was applicable only on hardware but now also used for software as well. Disassembler, reverse engineering can be used to identify the details of a breach that how the attacker entered the system, and what steps were taken to breach the system. There are different tools to work on the path of a disassembler, which is Apktool, IDA and Dex2jar etc. are major ones.
Mean Time to Detect (MTTD) and Mean Time to Respond
Any organization that is serious about their cyber security will have a thorough understanding of their current Mean Time to Detect and Mean Time to Respond metrics. MTTD and MTTR are vital cyber security monitoring tools.
Meantime to detect is the amount of time it takes your team to discover a potential security incident.
Meantime to respond is the time it takes to control, remediate and/or eradicate a threat once it has been discovered.
A team of experts should review security events on daily basis and you should concern to reduce mean time to detect risks. When you detect risk then you need to immediately resolve this matter and reduce mean time to respond also. The core metric for many security teams to measure their effectiveness is in Mean-Time-to-Detect and Mean-Time-To-Respond. Once your security team identifies or detects a threat and creates an alert, it then becomes a matter of how much time is spent on containing and remediating the threat.
Trained Employees
No matter the size of your organization, we can probably guess that your employees aren't trained well enough on cybersecurity and IT security. Hackers are getting increasingly good at recreating emails and personalizing for your employees. How can you effectively train your employees? It should come from the top down. Make security a priority in your organization.
There are different online platforms which are offering basic courses for employees training. KnowBe4 allows your organization to "phish your users" so you will know who the most phish-prone employees are and which ones should receive the most training.
Check it out here: Cyber Security Training
AI to Prevent Malware from Executing
Many organizations think that their antivirus software is enough to keep them safe. Unfortunately, that's not always the case. Antivirus isn't enough to protect endpoints.
The underlying technology for Cybriant's Managed EDR service is the only technology that stops over 99% of advanced threats and malware before they can execute to cause harm. It completely eliminates the need for legacy antivirus software, anti-exploit products, whitelisting solutions, and host-based intrusion detection and prevention systems.
Cybriant uses a "prevention-first" technology – we stop attacks before they cause harm, vs allowing attacks to happen, then clean up the mess.  By reducing the number of endpoint security products deployed on the endpoint, customers gain operational efficiencies by not having to manage signatures, policies, or deployments of additional protection.
This service is included in PREtect PREMIUM
Privileged identity management (PIM)
Privileged identity management is also a key cyber security monitoring tool. PIM is highly recommended by cybersecurity experts that by this specific passwords are save in specific software. When any hacker is trying to hack a company's website or data then PIM deceive attackers by changing passwords immediately. Due to this confidential data protected from stealing by attackers. PIM is also cost-effective and you can save your money.
Patch Management
Patch area codes which are basically used to update the software of your company to get the latest versions which are more effective. Responsive Patch Management solution will scan your systems, check for missing and available patches against our comprehensive vulnerability database, download and deploy missing patches and service packs, and generate reports to effectively manage the patch management process of the enterprise. Patch management is simply the practice of updating software with new pieces of code which is more effective for cyber security monitoring.
This service is included in PREtect ADVANCED. Find out more at cybriant.com/PREtect. 
Inside Threat Detection
Insider threat detection is also the main problem to face today. In this matter, you should take care of your employees. You should detect threats from inside because some malicious users who access private information and want to steal this. There are some negligent users who not voluntarily expose data but due to their negligence data can be exposed to outers by which company loss protection and some private/confidential files.
Check your vulnerabilities
Performing only a single vulnerability scan each year or quarter puts organizations at risk of not uncovering new vulnerabilities. The time between each scan is all an attacker needs to compromise a network. With continuous scanning, our security experts automatically have visibility to assess where each asset is secure or exposed.
Vulnerabilities are related to dangers or risks which our networks face or in emergency condition affected by some malware. So, for this purpose, you should examine your network to find risks and their solutions. Confidently visualize, analyze, and measure your cyber risk vulnerabilities is a tool for reducing cyber risk. Identifying vulnerabilities and having a system in place to patch will be incredibly effective cyber security monitoring tools.
With 3 Levels of Protection, PREtect covers all your Cyber Security Monitoring Tools