It is a reality that cybercrime is booming, the attacks suffered by companies of all kinds worldwide are becoming more numerous and more sophisticated. A SIEM is a necessary solution, but that comes with certain SIEM problems.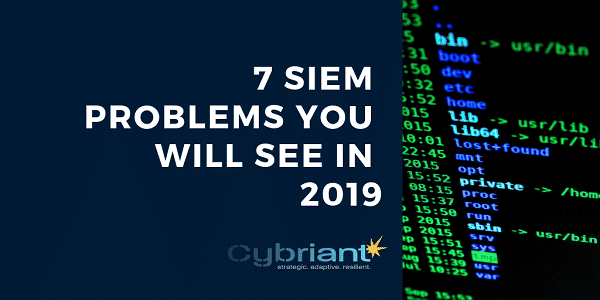 Governments, public companies, and private companies must devote year-on-year, massive budget allocations to try to combat and mitigate the attacks of cybercrime. Even if you are a small to medium-sized company, you need to find out how to combat cyber criminals. 
With the aim of being able to solve this situation and face different threats, with a greater degree of security and knowledge, the popularly known as "SIEM" (Security Information and Event Management) systems have appeared, tools which are demonstrating their excellent performance before scenarios full of threats and attacks, which makes companies consider almost an obligation the fact of having an optimized SIEM among their computer security systems.
Only a few clicks separate us from a host of attack modes (DDoS, Botnets, malware installation, Spam or Phishing emails, and etc.), with which any user, domestic or business can be surprised, the simplest way and without realizing it, contribute to compromising the safety of your home or company.
SIEM is a platform that centralizes the collection, storage, and interpretation of relevant security data. Many compliance regulations require a way to log security events coming into your organization. A SIEM is often purchased as a way of meeting those compliance regulations, but with a SIEM comes certain SIEM challenges. 
A SIEM allows an analysis of the situation of multiple locations from a unified point of view, this situation, which facilitates the detection of unusual trends and patterns. 
Most SIEM information systems work by deploying multiple agents that collect security-related events, from different data sources from different environments and even from different physical locations.
Many organizations believe that setting up a SIEM is quite easy and effective, but they do not realize about the SIEM Problems which we are going to talk about here.
Following are the Top 7 SIEM Problems you will See in 2019:
1. Deploying a SIEM is not enough to completely secure your organization
SIEM solutions have limitations that make them ineffective without the right support and third-party solutions.
Unlike a Firewall Security or IDS, a SIEM does not monitor security events but uses log data stored by them. It is therefore essential not to neglect the implementation of these solutions.
2. A sharp configuration
SIEM is a complex product that requires support to ensure successful integration with the company's security controls and the many hosts in its infrastructure.
It is important to not just install a SIEM with the manufacturer and/or default configurations, as they are often insufficient. Configurations must be customized and tailored to the users' needs. Likewise, for the reports, it is better to create your own analysis reports, adapted to the different identified threats. Otherwise, there is a real risk that you will not be able to enjoy the benefits of a SIEM solution.
3. Budget Issues
Collecting, storing, and analyzing security events are tasks that seem relatively simple. However, their collection, storage, and execution of compliance reports, application of patches and analysis of all security events occurring on a company's network are not trivial – the size of storage media, computing power for information processing, the integration time of security equipment, setting up alerts, and lot more. The initial investment can be in the hundreds of thousands of dollars to which must be added the annual support.
In addition, hardware and software licenses cover one-third of the SIEM Costs. In this way, expenses are more than expected and it is one of the major SIEM problems.
Analyzing, configuring, and integrating reports require the expertise of experts. For this reason, most SIEMs are managed directly within an often outsourced SOC (Security Operations Center). The bearer of great promises, the misconfigured SIEM can bring a lot of disappointments.
4. Maintenance and Configuration are Complex
According to many surveys, 75% characterize the time spending on customizing and configuring SIEM at the time of the implementation phase.
Once SIEM purchased, usually it takes 90 days or more of time in just installing before it starts working.
5. A Large Volume of Alerts to Regulate
SIEM solutions typically rely on rules to analyze all recorded data. However, the network of a company generates a very large number of alerts (on average 10000 per day) which can be positive or not. As a result, the identification of potential attacks is complicated by the volume of irrelevant logs.
The solution is to define precise rules that are generally written by a SOC and the perimeter to be monitored: what should be monitored first? The perimeter? The house? Network / system / app? Which technology to prioritize? etc.
6. Staffing Budget Higher than Expected
SIEM solutions receive security logs from a wide variety of systems: computers, servers, authentication systems, firewalls and more.
These logs record all events occurring on systems and networks. Their review can help you monitor activities, respond to events and protect your systems. Because a company's logs track millions of events every day, the function of a SIEM solution is to store and analyze in real-time all of these security alerts generated by network applications and devices.
In addition, to work properly, SIEM solutions require 24/7 monitoring of alerts and logs. Trained staff or a dedicated team is required to view news, conduct regular reviews and extract relevant reports.
Many businesses assume that installing SIEM is quite easy but in reality, they do not realize that SIEM will require setting a specially trained and skilled staff to get most out of the SIEM data and respond to its reports. And thus staffing budget goes higher than expected which is another SIEM problems.
7. No Evidence of the Security Breach
An informed cyber attacker knows that event logs are usually sent in batches, rather than in real time, to limit the impact of their transmission on network bandwidth.
The hacker thus has an access window to the operating system, including the underlying logging system. If it can clear the log logging access with administrator rights before it is sent, you will not have any evidence of the security breach. No proof, no offense.
On the other hand, if the attacker succeeds in performing system authentication without triggering an anomaly alert or using malware, no event will be generated by the network monitoring systems.
The solution to these SIEM problems is to find the best tool that works best for your IT team. It is advisable not to select any solution rashly or blindly.
Considering Outsourcing the Management of your SIEm