It is possible to have a simple solution to cybersecurity. We have created an all-in-one solution that includes our top managed services and bundled those services into one solution called PREtect.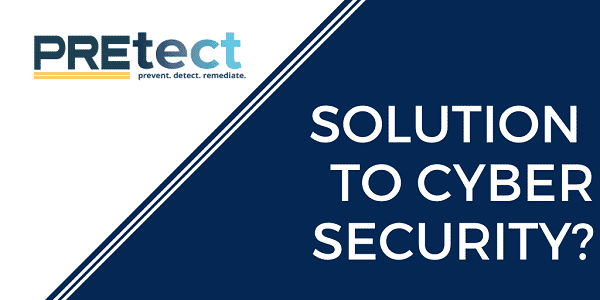 The Cybersecurity Problem
Hackers are constantly seeking the low-hanging fruit or easiest point of entry to raid your network. While you can never cover every scenario, it's vital to cover every base that you possibly can. 
Technical vulnerabilities are the low-hanging fruit for bad actors. 10 years ago the average time between when a vulnerability was published by a tech manufacturer and when hackers began scanning networks for it was 38 days, today it is minutes. You have to be able to move at a real-time pace to be able to close this gap. 
Discovering the vulnerability is step one, the next step is to patch that vulnerability. Many businesses do not have the resources to respond in an effective fashion. Even a company as big as Equifax.
Endpoints and the mobile workforce have created a new source for hackers to focus t eir energies on. This new perimeter has proven that traditional technologies like antivirus used to secure these devoces are not up to the challenge. It requires next generation technology in the hands of skilled security resources to blunt this attack vector.
Another surprising statistic is "dwell time" or amount of time between the breach and the discovery of the breach. Sadly, back in 2019 the average between MTTD (Mean time to detect) and MTTR (Mean time to remeidate) was 206 days. Most businesses learn they have been breached from third parties like clients, the FBI, or vendors. In order to thwart the most sophisticated attacks you must be able to identify when security controls have failed or detect odd environmental behavior.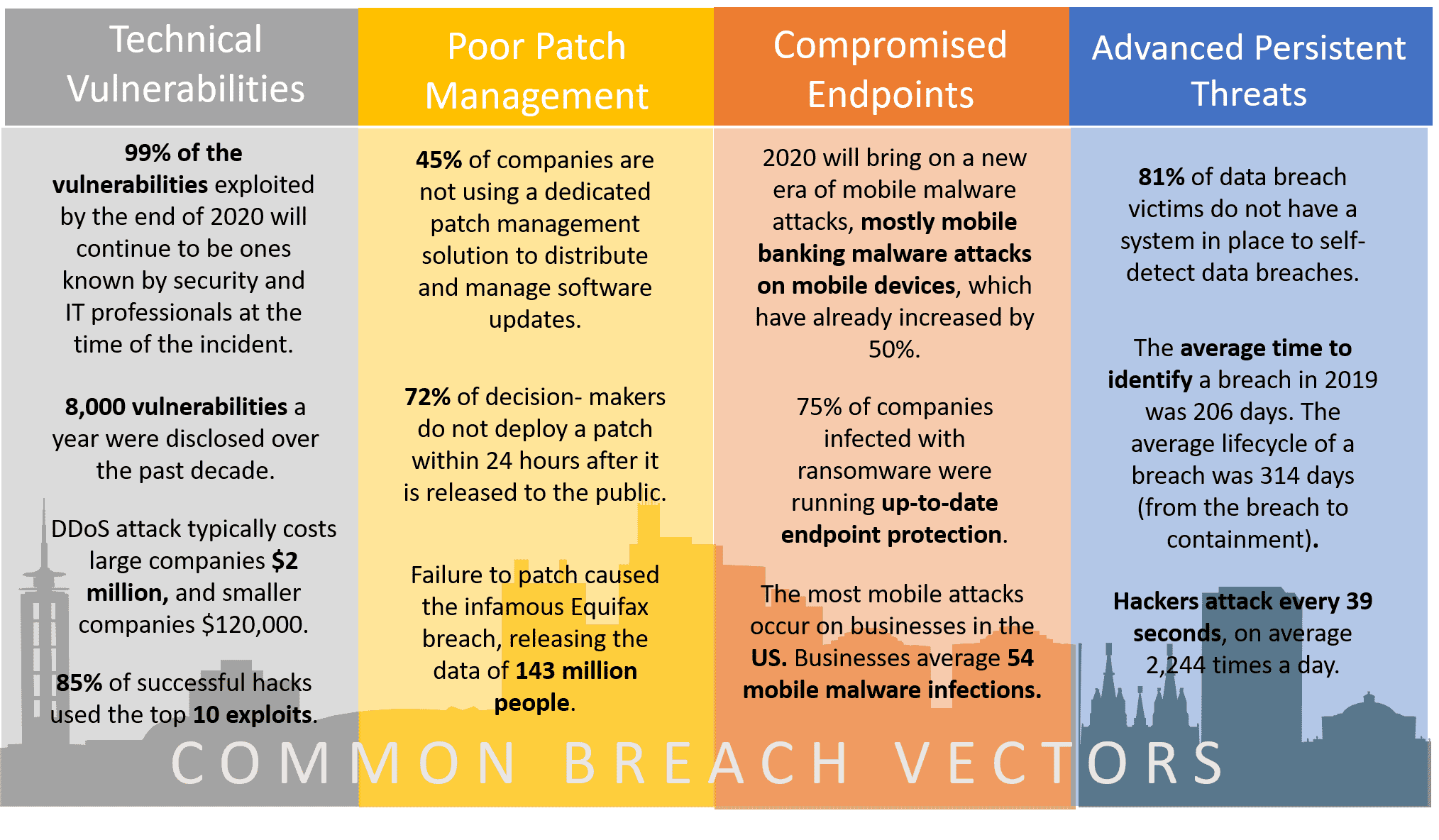 Solution to Cybersecurity Problem
PREtect is a bundled solution of our core managed service. These services will help you effectively reduce your threat landscape and sleep easier at night knowing you are fully protected. These services help business solve three challenges; reduce cyber risk, achieve compliance, and meet security framework control standards. The services comprised in PREtect address the most common vulnerabilities and threats mid-sized organizations will encounter thereby shrinking the threat landscape maximally.
PREtect includes the following services: 
24/7 Managed SIEM with LIVE Analysis, Response, and Remediation
This security monitoring service utilizes SIEM technology to capture, correlate, and analyze activity throughout the environment. We have two SIEM platforms to choose from; one asset based and one user behavior based. Cybriant layers on the 24/7 monitoring and human analytics expertise required to filter out and squelch false positive alerts, and to determine cause, response, and remediation path in the event of an actionable alert. This service includes threat intelligence.
Managed Detection and Remediation (MDR)
This service is platformed on a 4th generation EDR technology, the only EDR technology that can rollback ransomware, eliminate persistent threat mechanisms in an environment, and truly remediate an endpoint after an attack. This technology is being used by 4 of the Fortune 10 companies. The solution combines endpoint protection and EDR capabilities in a single agent. This service can stop a threat and provide the Cybriant team forensic data to track the entire event which our analysts can then use to recommend or perform additional remediation if required. The patented rollback capability enables systems to be restored in minutes rather than hours or days.
Comprehensive Vulnerability Management
This service utilizes leading technologies which enables the continuous scanning and patching of operating systems, configurations, and up to 800 3rd Party applications. The SANS Institute has endorsed Australia's Defense Signals Directorate strategies for information security. The leading strategy is the patching of applications, our service provides the most robust capability in this area. The service provides risk and policy based execution to ensure vulnerabilities are identified and patched in an optimized fashion. (This service combines scanning and patching but these services can also be deployed separately).
NIST CSF and Compliance Standards
Compliance standards like PCI, HIPPA, GLBA, FINRA, all have requirements satisfied by PREtect. Similarly, all leading security frameworks like NIST-CSF have fundamental control standards satisfied by PREtect. Each service provides standard reporting metrics which can be collaboratively customized with the client to measure specific performance indicators.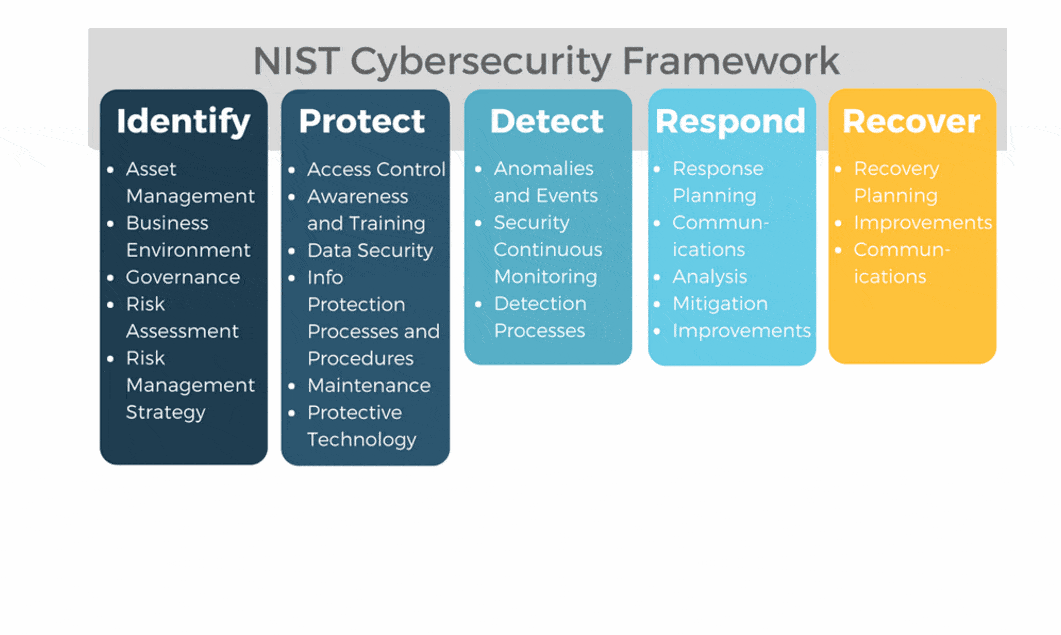 Learn More about PREtect