Once you learn these 5 phishing email red flags, you will never click on a spear-phishing email again. However, hackers are getting better and better. We've got one simple tool that will help stop any malware from executing from a phishing email. Read to the end to learn more.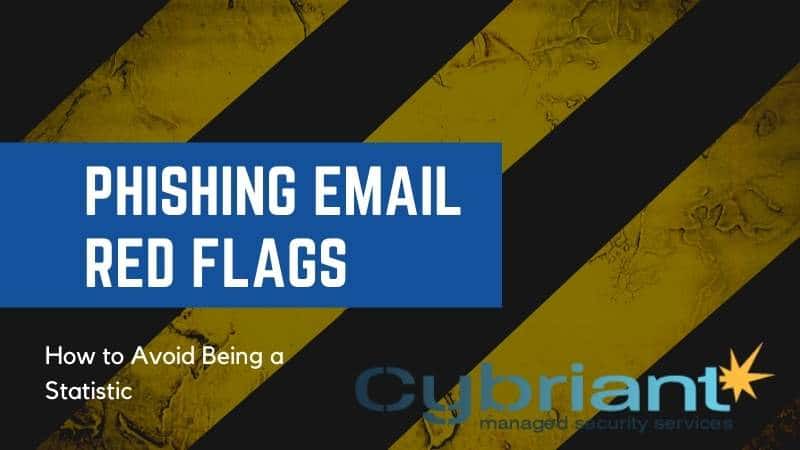 It's been said that your users are your weakest link. A single click can be the difference between maintaining data security and suffering massive financial losses. From the moment just one employee takes the bait in a phishing email, your business is vulnerable to data breaches and extensive downtime.
Quickly spot these Phishing Email Red Flags:
1. Poor spelling and grammar
While occasional typos happen to even the best of us, an email filled with errors is a clear warning sign. Most companies push their campaigns through multiple review stages where errors are blitzed and language is refined. Unlikely errors throughout the entire message indicate that the same level of care was not taken, and therefore the message is likely fraudulent.
2. An offer too good to be true
Free items or a lottery win sure sound great, but when the offer comes out of nowhere and with no catch? There's definitely cause for concern. Take care not to get carried away and click without investigating deeper.
3. Random sender who knows too much
Phishing has advanced in recent years to include 'spear phishing', which is an email or offer designed especially for your business. Culprits take details from your public channels, such as a recent function or award, and then use it against you. The only clues? The sender is unknown – they weren't at the event or involved in any way. Take a moment to see if their story checks out.
4. The URL or email address is not quite right
One of the most effective techniques used in phishing emails is to use domains that sound almost right. For example, [microsoft.info.com] or [pay-pal.com]
Hover over the link with your mouse and review where it will take you. If it doesn't look right or is completely different from the link text, send that email to the bin.
5. It asks for personal, financial, or business details
Alarm bells should ring when a message contains a request for personal, business, or financial information.  If you believe there may be a genuine issue, you can initiate a check using established, trusted channels.
How to Stop Phishing Emails
Unfortunately, once the hackers have your email address, it's difficult for them to stop making attempts. You can easily see if your email address has been compromised by going to https://haveibeenpwned.com/.
If any red flags are discovered, immediately change your password. Cybriant's CTO created a remote workers guide with a very helpful step by step guide to protecting your personal information. See our Remote Workers Guide here. 
Best Practice: Prevent Malware from Executing
While it's vital to teach your staff these 5 phishing email red flags, hackers are getting so good at crafting compelling phishing emails.  Traditional knowledge tells us to use an antivirus that will stop us from going to any unsavory websites. We've discovered that isn't the case with modern-day hackers. There are several threats that can still make it through your antivirus. 
Many organizations are not comfortable removing their antivirus product completely. Very often, clients will utilize Managed Detection and Response (MDR) security services to determine just how much their current AV has missed. You'll have the ability to detect and prevent hidden exploit processes that are more complex than a simple signature or pattern and evade traditional antivirus.
How many different technologies are deployed on your users' endpoints? How many full-time employees does it take to manage those technologies? By reducing the number of layers of security on your endpoints, you'll find that you see an improved level of security. Deploying more technology or software on the endpoint will have an impact on system performance.
Here are some reasons we highly recommend MDR:
24/7 Continuous Monitoring
Rest assured that your endpoints are protected around the clock, Cybriant provides forensic analysis, threat intelligence, and 24/7 protection.
Full Lifecycle Protection
Combining automated processes and technologies with expert, field-seasoned cyber intelligence analysts, you'll receive full-spectrum protection from initial alert to security event remediation.
Real-Time Threat Detection
By using AI technology, we have the ability to detect and prevent attacks before they can fully execute. When a threat is detected, we are able to contain and mitigate threats from all diverse modes of attack.
Remediation
When you work with Cybriant, we give you the insight and expertise to remediate any threats. This will help your organization reduce their attack surface by learning how you've been compromised.
Consider MDR from Cybriant today. When you take advantage of our 30-day trial, you'll receive the details of managed detection and response pricing in case you want to continue using the service.
Conclusion
While education is the best way to ensure phishing emails are unsuccessful, an MDR service that is watching your endpoints around the clock will provide peace of mind that your business has the best protection available.
Test out our MDR service with a free 30-day trial.