As cyberattacks continue to make headlines, hackers are exposing or selling customer data files in record numbers. But just like with any threat, there are actions you can take to minimize risk and ensure your business retains a positive reputation among customers.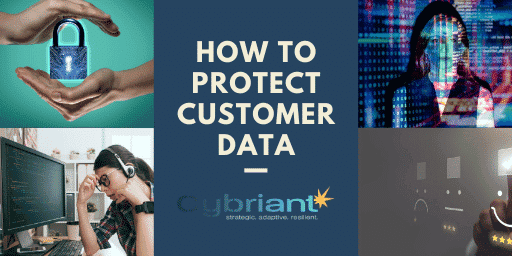 Your customers' data should potentially be the most protected item in your organization. As we saw in the Equifax breach, just a small oversight or error can cause millions of dollars worth of damage to your company, as well as damage to your reputation. So, protecting your customers' data should be on the top of your list of priorities.
Here are 7 tips to use throughout your organization to protect client data:
1. Stop using the same password on repeat
Set a mandate for all staff that passwords must be unique for each user and for your workplace. That means it can't be remotely like the one on their home PC, tablet, or online banking. Passwords are hacked more than ever, so when you're prompted for a password change, dig deep and really think about what goes into a hacker-proof password. If remembering them is a problem, consider one of the latest password management tools.
2. Go on a shredding spree
How much sensitive data is being dumped into the recycling bin? Valuable customer data is often taken from the bins of small businesses and quickly sold or published. It's not just good practice to shred sensitive documents, it's the law.  Take 5 seconds to run documents through the shredder or book in the services of a secure shredding company.
3. Ditch the accounting spreadsheets
Still using an Excel doc for all your number-crunching? Besides making your accountant's job harder (and more expensive), you're opening your business to a massive range of vulnerabilities. Even with password-protection, spreadsheets aren't designed to safeguard your financials or those of your clients. Upgrade to a proper accounting solution with built-in customer data protections and security guarantees.
4. Train staff explicitly
You can't rely on common sense because what you think is a given might be news to someone else. It can be extremely beneficial to hold special data-safety training sessions once or twice a year as a reminder, as well as take the time to induct new staff into the way things are done.
5. Limit access to data
Just like the bank manager who guards the keys to the vault, you can limit who accesses your data. Revoke employee access as soon as they leave your business for good, and set rules around who can access what – and when. Do they need access to sensitive information while working from home? Should they be able to change the files, or only view them?
6. Keep your software updated
Possibly the most preventable hack, having outdated software can be an open invitation for cyber-criminals. They look for known weaknesses in business software and waltz right in. While the nagging pop-ups and reminders to update can feel like a selling ploy, they're actually helping your business to stay in the safe zone. Updated software gives you protection against new viruses and hacking techniques, plus closes off those nasty weaknesses.
7. Use an Endpoint Protection Platform or MDR Service
MDR is Managed Detection and Remediation. In 2020, antivirus is not enough to protect your endpoints. The fact is that cyberattacks on endpoints are increasing rapidly in complexity and numbers. With digitization continuing to transform industries, devices in huge numbers are likely to be compromised.
To mitigate the risk of compromised systems, you need an immediate response, enhanced security tools, and a team of experts on your side that can guide you through the entire remediation process. You get this and more with Cybriant's 24/7 MDR Service. Find out more here: https://cybriant.com/mdr/
Your business environment is dynamic; that's part of what keeps you interested. Yet you have to keep a constant, watchful eye on the horizon. You must try to anticipate obstacles and be proactive to avoid disaster down the road.
One of the biggest problems facing businesses today is securing mobile, collaborative resources.
Business is done on the move and remotely more and more. To remain productive and also recruit and retain top talent, you need to enable mobility. Your people might collaborate across country borders or even between the office and a nearby coffee shop. They want reliable access to the same business tools they might use when on-premises.
How does MDR help?
When you outsource the management of your Managed Detection and Remediation (MDR) to Cybriant, our security analysts are able to:
Perform root cause analysis for any blocked threat or any other artifact deemed important found on an endpoint
Proactively search endpoints for signs of threats commonly referred to as threat hunting
Take decisive action when a security incident, or potential incident, is identified
Cybriant uses AI-based threat prevention, running locally on your endpoint, that has a field-proven record of preventing well over 99% of threats, both known and unknown, from executing on your endpoint, without signatures, cloud lookups, or significant impact on your endpoint.
Using AI, we can stop bad executables before they can hurt your business. Time is of the essence when it comes to a security incident. Our analysts can decisive action when a security incident is identified or a threat needs to be mitigated.
Our analysts can immediately investigate any endpoint in your environment to determine if the activity is in fact malicious. Real attack data is an invaluable source of intelligence for your security team. Without deploying sandbox technology, our analysts can get a glimpse into the mind of the attacker and how they try to compromise your endpoint.
In Conclusion
If you are serious about protecting your customers' data, consider MDR from Cybriant to prevent cybercriminals from accessing their information. Using AI, our analysts will stamp out a potential compromise before it has the chance to do harm. Along with a curated set of forensically relevant data on your endpoints, You also get script control, memory protection, application control, and device usage management to block additional threat vectors.
We offer a 30-day free trial of our MDR Service. Find out more here: https://cybriant.com/mdr-free-trial/
Managed Detection and Remediation (MDR)