Do you need help learning how to simplify cyber threat management? Keep reading. We'll give you the top 5 tools every company needs to be cyber-resilient.
---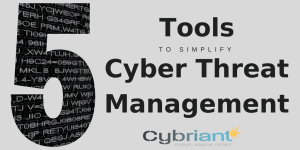 It's 2018 and the spotlight is on if you are employed in any information security position. Your executive team, the board, your boss – any corporate stakeholder – wants to be sure that you have everything under control when it comes to cyber threat management. Communication about the tools you are using for cyber threat management will be key when the spotlight is on you.
No matter what regulatory compliance rules you are under, you will need certain cybersecurity monitoring tools. But, do you just have the tools or are you using them to your organization's advantage? The cyber threat management tools we discuss will help take advantage of your compliance rules.
#1 Rule for Cyber Threat Management
If your organization uses the internet or allows employees to use mobile devices, then your organization is a target for cybercriminals. YOU ARE NOT SECURE. So, be prepared.
Learn about the People, Process, and Technology of cybersecurity.
Advanced Persistent Threats
Advanced Persistent Threats (APT) is just one of the top 5 most common cyber threats. But, APT is one of the most difficult to detect because this means that you have been targeted by an entity of cybercriminals.
New attack vectors and vulnerabilities are discovered every day. Your organization likely has firewalls, IDS/IPS, and AV solutions installed that look for malicious activity at various points within the IT infrastructure, from the perimeter to endpoints. However, many of these solutions are not equipped to detect zero-day attacks and advanced persistent threats.
According to Wikipedia:

An advanced persistent threat is a set of stealthy and continuous computer hacking processes, often orchestrated by a person or persons targeting a specific entity. An APT usually targets either private organizations, states or both for business or political motives. APT processes require a high degree of covertness over a long period of time.
Common Network Security Threats Advanced Persistent Threats Stats:
81% of data breach victims do not have a system in place to self-detect data breaches.
Many companies rely on notification from third parties to let them know about a data breach on their network, increasing the time to detection from 14.5 days to 154 days.
What are organizations supposed to do to combat such a huge threat to their security? Where do you start? CSO recently posted their article, "How 12 cutting-edge tools tackle today's threats."
These tools are legitimate security tools that will help your organization, but that still doesn't answer the questions – where do you start? Do you have the budget to utilize any or all of these tools?
5 Tools to Simplify Cyber Threat Management
START HERE: Risk Assessment
There are several different kinds of risk assessments including gap analysis and penetration tests. The point of a risk assessment is to find out where you are, so you know where to begin.
Our Director of Managed Services recently posted an article, "Why You Must Perform a Security Assessment." Here he answers the question, what should be assessed?
To begin, most organizations only focus on IT data systems or penetration tests during Security Assessments, and this is where things go wrong very quickly.  Yes, it is important that the firewall blocks bad guys and workstations are kept secure, but what about phone systems or printers?  Will your users recognize and report a phishing email attempt?  What is the process for when an employee exits your organization? Did anyone remember to disable their key card to the building?  A thorough Security Assessment will go beyond the typical IT systems assessment.
Here is a list of security domains that should be considered during a Security Assessment:
Access control
Information Governance and Risk Management
Infrastructure Architecture and Design
Cryptography
Operations Security
Network and Telecommunications Security
Disaster Recovery and Business Continuity plans
Governmental Regulations
Incident Management Policies and Procedures
Physical Security
IT Security Training Programs
Network Boundaries
SIEM
A SIEM is a piece of the security puzzle that every organization needs. Many organizations know they need a SIEM for log monitoring and management but have problems because it was implemented incorrectly or wasn't fine-tuned to their business specifications.
What is a SIEM?
Security Information and Event Management (SIEM) – A SIEM platform centrally collects data from multiple devices on your network, including your existing security appliances. Through an advanced correlation engine, it is able to proactively identify security events not otherwise detected by standalone security technology.
A SIEM system centralizes logging capabilities on security events for enterprises and is principally used to analyze and/or report on the log entries received. The analysis capabilities of SIEM systems can detect attacks not discovered through other means and can direct the reconfiguration of other enterprise security controls to plug holes in enterprise security. Some of the top SIEM products — assuming an attack is still in progress — can even stop detected security breaches.
Why do people use a SIEM?
A SIEM is used differently based on the perceived outcomes and benefits of the tool. The top reasons organizations purchase a SIEM is as follows:
Compliance reporting obligations
Log management and retention
Continuous monitoring and incident response
Case management or ticketing systems
Policy enforcement validation and policy violations
Cybersecurity experts
The cybersecurity skills shortage is getting worse. It is more and more difficult to find someone with the qualifications you need at the salary budget you can afford. For this reason alone, many companies choose to outsource. We often warn people to be picky when you outsource! We have heard story after story of MSSPs that claim to monitor your SIEM but that means they will forward alerts from your SIEM. Find a true security organization that offers managed detection and response (MDR). Cybriant will help you detect those alerts but then provide a remediation path to resolve it.
Many organizations come to us after decided that it isn't feasible to build an internal security operations center (SOC).
Download our ebook, "Insource vs. Outsource: Cost Comparison for building a 24/7 Security Operations Center" to discover the true cost of building an internal SOC.
Endpoint Detection and Response
Traditional anti-virus isn't enough to protect endpoints. This is where AI or artificial intelligence can absolutely help your organization. It's possible to use AI to prevent cyber attacks. We all have employees that are click happy. With the right EDR technology, you can prevent 99% of malware attacks from becoming breaches.
Cybriant uses AI-based threat prevention, running locally on your endpoint, that has a field-proven record of preventing well over 99% of threats, both known and unknown, from executing on your endpoint, without signatures, cloud lookups, or significant impact on your endpoint.
Using AI, we can stop bad executables before they can hurt your business. Time is of the essence when it comes to a security incident. Our analysts can decisive action when a security incident is identified or a threat needs to be mitigated.
Find out more about our managed EDR service.
Vulnerability and Patch Management
Vulnerability scanning, and patch management are two different services, but they work closely together. When you understand your vulnerabilities, you can patch more effectively.
"Gartner predicts that, through 2020, 99% of vulnerabilities exploited will continue to be the ones known by security and IT professionals for at least one year." Source 
The modern attack surface has created a massive gap in an organization's ability to truly understand their cyber exposure.
The larger the gap, the greater the risk of a business-impacting cyber event occurring. Traditional Vulnerability Management is no longer sufficient. Managed Vulnerability Management extends vulnerability management by covering the breadth of the attack surface (IT, Cloud, IoT/OT) and provide a depth of insight into the data (including prioritization/analytics/decision support).
Download our ebook, "The Modern Approach to Vulnerability Scanning."
Read more about Responsive Patch Management here.
Cyber Threat Management is Vital for All Businesses
No matter which tools you decide to use, start today. Let us know which tools you could benefit from the most. If you need guidance, we have experts standing by the help you.
Cyber Threat Management: Start Here