Back in the early days of the Internet, phishing emails were full of typos and laden with obvious clues—appeals from faraway princess or rich relatives you never knew you had. These were very easy to spot. But cybercriminals have upped their game since then. For example, some cybercriminals go to great lengths to match the branding, color schemes, and logos associated with the companies they are trying to impersonate.
PROTECT YOURSELF FROM PHISHING SCAMS
Phishing emails may be more difficult to identify these days, but there are some important steps you can take to avoid becoming a victim. If you answer "yes" to any of the questions below, there's a very good chance that you're looking at a phishing email.
Does the message ask for personal information?
Always remember that reputable businesses do not ask for personal information—such as social security and
credit card numbers—via email.
Does the offer seem too good to be real?
If it seems too good to be true, it's a fake. Beware of emails offering big rewards—vacations, cash prizes, etc.—
for little effort.
Does the salutation look odd?
Reputable companies will use your name in the salutation—as opposed to "valued customer" or "to whom it
may concern."
Does the email have mismatched URLs?
If you receive an email from an organization that includes an HTML link in it, hover your mouse over the link without clicking and you should see the full URL appear. If the URL does not include the organization's exact name, or if it looks suspicious in any other way, delete it because it's probably a phishing email. Also, you should only visit websites that begin with "https" because the "s" at the end indicates advanced security measures. Websites that begin with "http" are not as secure.
Does it give you a suspicious feeling?
Trust your instincts when it comes to email. If you catch yourself wondering whether it's legitimate, and your instinct is to ignore and delete it—then pay attention to that gut check.
As email scams become more sophisticated, it is more likely that an employee at your company will fall victim to a phishing technique.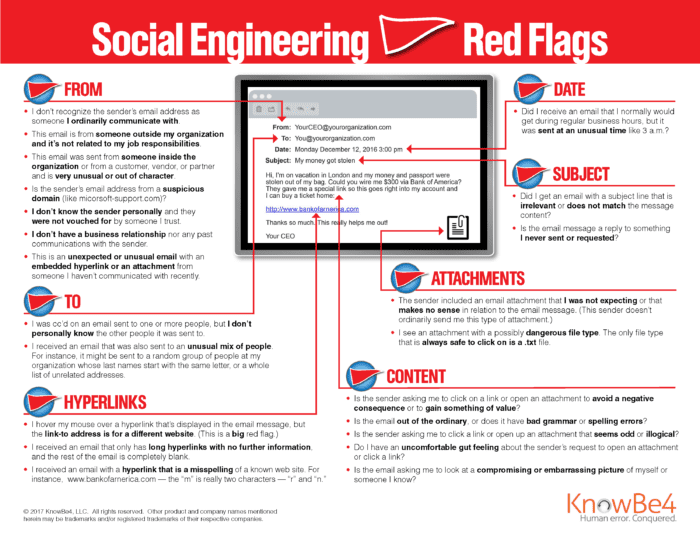 Cybersecurity Awareness Training