MDR vs. EDR? Both MDR and EDR are focused on the protection of your endpoints, but what is the difference in the services, and which one is the best for you?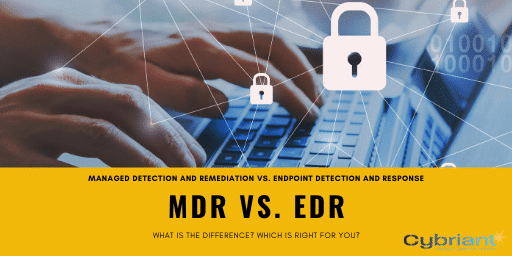 You may have noticed that we recently launched an MDR service: Managed Detection and Remediation – formerly known as Managed EDR. The reason for this change is because our services offer a much more in-depth remediation aspect than a traditional EDR or Endpoint Detection and Response service.
What is Managed EDR?
EDR is typically considered next-generation antivirus that is focused on endpoints or hosts. EDR depends on a software agent that is installed on the endpoint and sends information to a centralized database for analysis. As a Managed EDR, our team would analyze your data and potentially stop any malware threats.
EDR was an excellent progression from antivirus because you could record and store user behaviors and events on endpoints. Plus, with a managed service, if a user clicked on a phishing email, we stopped malware before it could execute.
While the service is still very similar, we consider EDR the "Lite" version of MDR. Take a look and consider why MDR might be right for you.
What is Managed Detection and Remediation?
We've taken EDR to the next level so we not only detect intrusions malware, and malicious activity on your network, we will assist you to eliminate and mitigate those threats. It is vital that we include a small piece of software on every device you would like track, but the software we use is lightest available. Your users won't even know it's there.
The software is important but the most vital part of our MDR service is the team of analysts that watch your network 24/7. We eliminate false positives and identify real security threats. Our team reduces the time to detection to hours if not minutes. Plus, we help you mediate and remove the threat.
Hackers are getting better and better at what they do, and new threats are discovered daily. With MDR, we can take security monitoring to the next level with MDR as this service is designed to address threats that bypass traditional controls. While many organizations focus on securing their perimeter, most do not know what happens to threats once they enter their system.
Our team utilizes AI, machine learning, and behavioral analysis as well as on our internal expertise to find and eliminate those threats.
Remediation is Key
Alerting you that there is a problem on your network is no help unless you know how to fix it. With our MDR service, once a threat is identified, the malicious activity is immediately stopped in its tracks and our team guides you through the remediation. This remediation process provides astonishing insight into the data of the threat.
You'll be able to help your organization reduce their attack surface by learning how you've been compromised.
Is MDR Right for You?
If you want to protect your organization, but don't have the staff or abilities to watch your systems around the clock, then this service is right for you.
With MDR from Cybriant, our security analysts monitor your endpoints 24/7 and filter out false positives. You'll receive the alerts when relevant threats are detected along with advice and insight from our cybersecurity team to help you mitigate and respond to the threat.
As an extension of your team, our experts will investigate, triage, and remediate security events and provide executive-level reporting. Remediation may reveal dormant or trojan threat actors that evade network and endpoint detection solutions. Our MDR solution includes leveraging the talents of our experienced team as well as next-generation antivirus and EDR tools that utilize AI.
The MDR service from Cybriant will allow you to protect your organization's data and reduce your threat landscape against the most advanced threats.