Many businesses struggle with the decision of hiring in-house employees or choosing to use an MSSP to improve cybersecurity. However, outsourcing your IT needs in the workplace is almost always a better investment for your company.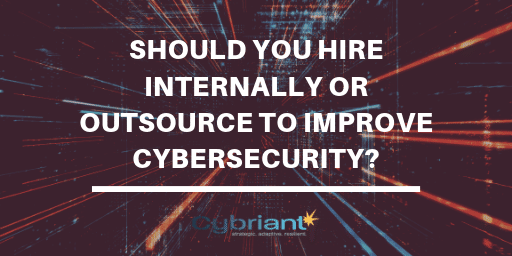 Some of the benefits of using an outsourcing security monitoring service provider include the fact that you will only have to pay a fixed fee each month, which makes it easier to stay within budget without worrying about unpredictable costs. On the other hand, in-house IT employees will require ongoing training, fringe benefits, overtime pay, and you will always have to deal with employees leaving. A managed service provider like Cybriant bypasses all of these extra costs, while still giving you access to experienced IT professionals at an affordable rate.
Interested in learning more? Here are three more reasons why is it wise to invest in an outsourced cyber security monitoring service provider. 
Outsource to Improve Cybersecurity
Cyber attacks can cause significant data breaches and destroy the reputation of a business. Consider the newsworthy breaches at Equifax and Capital One. Many technology executives consider using their current staff to manage their cybersecurity needs. However, in-house IT teams do not have the experience and expertise to handle large-scale cyber attacks in the workplace. It's possible to avoid this scenario by outsourcing your security monitoring to a managed security service provider for the ultimate cybersecurity protection.
An MSSP offers a variety of services to keep your data secure, such as advanced virus and malware protection, network monitoring, next generation endpoint protection, risk assessments, and vulnerability & patch management services.
Access to Threat Intelligence
Keeping up with all of the latest changes in cybersecurity is never an easy task. However, an MSSP has access to the most recent threat intelligence to help your business stay prepared to fight the latest cyber threats. New cyber threats continue to evolve at a rapid speed, and an MSSP can help your organization keep pace and stay up to date with the latest technology.
On the other hand, an in-house IT department is more focused on maintaining your IT infrastructure and doesn't have the extra resources to continue to invest in state of the art technology.
Cybersecurity Expertise
An additional benefit of using an MSSP is that you will gain access to cybersecurity analysts that have many years of experience in cybersecurity. A managed security provider works with multiple clients in maximizing uptime and is always available to offer additional support. An MSSP will help maintain patching and vulnerabilities up to date and monitor your network for any potential areas of vulnerability. These cybersecurity professionals play a key role in minimizing downtime and improving the daily operations of your business.
Working with an MSSP like Cybriant is a great investment for companies in today's highly competitive work environment. Improving cybersecurity, gaining access to new technology, and around the clock IT help desk support are just a few of the numerous advantages of outsourcing all of your technical needs in the workplace.
Technology is the key to a successful business, and a managed service provider is an affordable long-term investment that offers immense benefits compared to hiring an in-house IT team.
Cybriant makes Cybersecurity Easy