Have you wondered how hackers steal passwords? Unfortunately, we make it easy for them with weak passwords that are simple to crack. By simply taking advantage of low hanging account passwords, hackers steal the most sensitive data to perform blackmailing, identity fraud, extortion, and other illegal activities.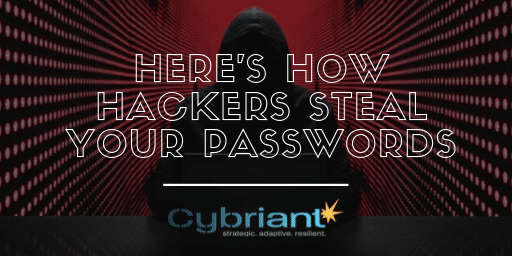 The hacking of a user's password might even be worse than personally identifiable information (PII) as it exposes the user's online accounts. Email is often used to verify passwords and store information of other accounts, and a stolen email account password can lead to more cases of scam and identity theft.
Here's how Hackers Steal Your Passwords
According to recent studies on data and identity theft, various small to medium-sized businesses (SMBs) still believe that they are saved from hackers stealing passwords. Many believe their businesses don't have as much precious data as larger companies and hackers won't attack them. 
The following are the ways hackers steal passwords from an individual to an organization of all sizes. 
Brute force attack:
Brute force attacks are trial and error sessions done various times per minute using a specific program and your private information or words that may value to you.
It's not all random words or information. Some extra advanced brute force hacking codes and programs use further targeted words that are possible to be used as passwords. These words are prioritized to make passwords with a greater possibility of matching.
Spidering:
This password-stealing technique gathers information from company sites or social media websites like Instagram or Twitter to come up with word lists, which are then used to conduct brute force and dictionary attacks on the users.
Rainbow table attacks:
Though it sounds like a board game, this kind of attack deals with hashes i.e., the encrypted values of passwords. The rainbow table includes pre-computed hashes of password parts that, when rightly joined, provide the full hash of the target's real password. While the more professional approach of this attack could produce quicker results, it could also take up a lot of computing power to operate.
Phishing:
Phishing is one of the most common and regularly used password hacks. A hacker will send an email that carries a link that, once clicked, guides to a spoofed website that encourages the person to give their password or other information. In other scenarios, the hacker tries to trick the user to download a malicious program that skims for the user's password.
Social engineering:
According to Hacker's point of view, if all else fails, use the simplest trick in the book and do it the traditional way. Social engineering is the use of psychological manipulation to gain the trust of an unwitting user. For example, a hacker could drop a harmless thumb drive in an office. Shortly as a victim installs it (normally to obtain information that can help recognize and find its owner), the device will load malware onto the system to steal passwords.
What is Cybersecurity? 
Cybersecurity includes the technologies, processes, and practices that are put in place to protect from cyber-attacks that are created to inflict harm against a network system or access data without authorization.
The most beneficial kinds of IT security for your company will offer a comprehensive solution to protect against a variety of issues. Ideally, your solution needs the following to include: firewall, antivirus, anti-spam, wireless security, and online content filtration. 
What is Threat Monitoring? 
Threat monitoring includes several different features. Commonly, this service consists of constant monitoring across all networks and vulnerability scanning of access points for any interruptions or signs of malicious activity.
From that point, any monitoring would let the administrator to not only determine what is happening across the network at any given moment but also recognize any risks or breaches that are in place. While doing so the administrator could address system vulnerabilities and build a security protocol that will best address these weak points in your system.
Do You Need It? 
Apart from some very small exceptions, the answer is clearly YES. Any institution managing any form of financial information or client is a major target for cybercriminals. Neglecting your network unmonitored is the equivalent of being a sitting duck.
A typical misunderstanding that many small firms have is that their data is not precious to would-be hackers or just not worth their efforts or time. This mindset could make you an easy victim. One of the principal reasons you need cyber threat monitoring is because most cybercriminals take the path of least friction. You need to understand that you are facing the same cyber threats as large companies even though you probably have a fraction of the resources to deal with them.
A single cyberattack can cost you your business. Studies done by the National Cyber Security Alliance reveals that 60 percent of the small and mid-sized companies close after 6 months following a cyberattack. Companies that fall victim to hackers and cybercriminals lose their customers' trust and their clients' repeat business.
This is why spending on the services of a firm that handles cybersecurity for the company is a must-have investment. Let's have a look at the reasons why you should partner with a cybersecurity provider like Cybriant right now:
1. Protect Your Business from Cyber Attacks
A cybersecurity provider's main responsibility is to defend your business from all sorts of cyberattacks. They will deploy security solutions like the Endpoint Protection system to keep malware and hackers away. Their services revolve around actively updating your software and monitoring network activity to meet that end.
2. Identify Weakness in your Network Infrastructure
Your network likely harbors security vulnerabilities which will allow hackers entrance into your system. When you hire a cybersecurity company, one of the first things they'll do is to examine every nook and cranny of your network for vulnerabilities. They'll then report their findings to you and generate an action plan to plug these security holes and strengthen your network.
3. Provide Cybersecurity Training
If left inexperienced your employees can be your greatest vulnerability. According to the studies of Ponemon Institute's 2018, human error accounts for 27% of the root causes of data breaches. Cybersecurity training will cut these percentage down as employees learn about correct cybersecurity hygiene and habits.
4. Update Cybersecurity Defenses
Cybersecurity companies will perform regular patch management on every device in the system. Each hardware in the network can possibly house security vulnerabilities in their operating systems. The developers of these programs routinely "patch" these security holes and IT teams download and install these applications on their system devices.
Your cybersecurity partner will install these patches and keep them up-to-date to guard your network from malware that will exploit weaknesses.
5. Detect and Remediate Cybersecurity Issues
A cybersecurity provider will regularly monitor the processes within your system and keep an eye out for inconsistencies. They'll also implement every method of scanning for malware and viruses within their arsenal to see if more modern forms of malware have sneaked their way into the infrastructure. If their detection programs find anything, they will quickly clean the malware and revive your system to its working condition.
6. Help Your Business with Compliance
As huge data breaches come into mainstream awareness, more and more authorities have started hefting the duty of protecting customer data onto corporations and businesses. They introduce laws to do this and fine entities which don't comply.
A cybersecurity company will help your business meet these regulations by keeping your network up to date. They will also help you shape policies in your business around cybersecurity so you stay within compliance obligations.
7. Your Crisis Response Team
If unfortunately, a cyberattack happens, your cybersecurity firm will know exactly what to do. For instance, they'll employ solutions. Should your corporation suffer from an ongoing data breach, they'll immediately go into action to resolve the situation rapidly in order to staunch the bleeding.
Conclusion
As you can see, a cybersecurity provider can do a lot for your company. The true value of partnering with a cybersecurity company is that it will help your company progress by protecting business continuity and fostering an environment where employees can feel secure to work. A safe working atmosphere plus keeping your reputation clean can guarantee your business' profit in the long term.