Cybercrime has gone pro. More than ever, your users are the weak link in your network security. It is time for a comprehensive approach to effectively manage this problem, managed by people with a technical background.
With our integrated Security Awareness Training and Simulated Phishing platform, you can create a fully mature employee training program in minutes. 
Baseline Testing
We provide baseline testing to assess the Phish-prone percentage of your users through a simulated phishing, vishing or smishing attack. Test our platform yourself for 30 days.
Train Your Users
The world's largest library of security awareness training content; including interactive modules, videos, games, posters, and newsletters. Automated training campaigns with scheduled reminder emails.
Phish Your Users
Best-in-class, fully automated simulated phishing, vishing and smishing attacks, hundreds of templates with unlimited usage, and community phishing templates.
See The Results
Enterprise-strength reporting. Both high-level and granular stats and graphs ready for management reports. We even have a personal timeline for each user.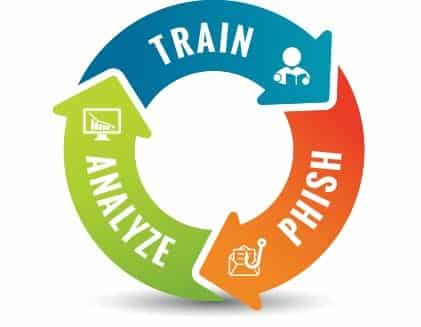 Integrated Platform
Our platform integrates all functions in one, easy to use GUI. Kick off training campaigns and simulated attacks in minutes.
Superior Tech Support
As an enterprise customer, you are automatically enrolled in our Platinum Tech Support program.
Random Attack Delivery
We'll schedule the phishing emails so every employee receives a different phishing email at a different time.
Managed Service
No time to deploy your awareness training program? Let our team of security professionals manage your awareness training.
Unlimited Use
Unlimited access to all phishing features with flexible licensing. No artificial license ceilings and 10% overage allowance.
Improved Security Behavior
Repeated studies show your employee Phish-prone percentage drops more than 90%.
Schedule a Demo
Get a product demonstration of the integrated Security Awareness Training platform.