Byron DeLoach will speak at the 2019 National Cyber Summit in Huntsville, AL. 
Conference Dates: June 4-6, 2019
Location: Von Braun Center – Huntsville, AL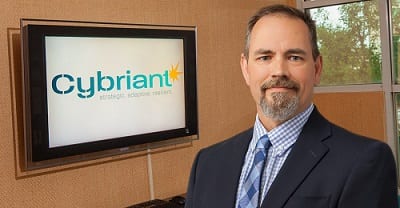 Byron DeLoach, Cybriant's Director of Adaptive Services, was recently selected to speak at the upcoming National Cyber Summit in Huntsville, AL.
Mr. DeLoach's session, "True Cyber Crime Story: Blocking a Nation-State Attack" will be held on Wednesday, June 5, 2019 1:15 p.m. – 2:00 p.m.
Join us to find how we used CylancePROTECT and CylanceOPTICS to stop a persistent advanced web shell attack conducted by Nation-State Attackers that prevented an organization from becoming the focus of a lengthy FBI investigation.
2019 National Cyber Summit
The 2019 National Cyber Summit is the nation's most innovative cyber security-technology event, offering unique educational, collaborative and workforce development opportunities for industry visionaries and rising leaders. Our core focus is on two things: accessibility and connectivity.
Held in Huntsville, Alabama, one of the nation's largest technological hubs, the Summit attracts commercial companies including healthcare, automotive and energy; academia; Department of Defense organizations; and civilian departments and agencies including DHS, NIST, U.S. Army, NASA, TVA, NSF and DOE.
Event Background
Since its inception in 2008, the Summit offers numerous benefits to attendees. Some of the benefits include a diverse offering of educational training sessions, technical and management presentations and keynotes from world-class speakers. The Summit also offers the unique opportunity to networks, showcase solutions and learn new skills.
The Summit is hosted by the North Alabama Chapter of the Information Systems Security Association (NAC-ISSA), Cyber Huntsville Corporation (CHC), Auburn University Research, and University of Alabama in Huntsville.
About Byron DeLoach
A member of Cybriant's Management team, Mr. DeLoach has 30 years of experience in the areas of IT security, IT infrastructure, and Managed IT Services. As Cybriant's Director of Adaptive Services, he oversees the delivery of the company's managed and professional services.
Relating to his current responsibilities at Cybriant, Mr. DeLoach is a certified AlienVault engineer who has personally completed over 200 engagements assisting end-users and
MSSPS in the implementation and tuning of AlienVault technology. He has also taught over 20 classes as an AlienVault instructor. These services have been performed for companies all over the world across a variety of industry verticals including Finance, Retail, Legal, Education, Manufacturing, and Healthcare.
Mr. DeLoach is also an accomplished provider of security risk assessments having completed over 30 assessments for an array of organization ranging from Mid-Market companies to the Fortune 500. He possesses knowledge and expertise with the most accepted security control frameworks such as NIST-CSF, SANs CIS, and ISO 27001.
Prior to Cybriant Mr. DeLoach held a success of leadership and engineering roles responsible for the design, implementation and management of IT infrastructure and security architecture.