You will be shocked at these 2019 cybercrime statistics!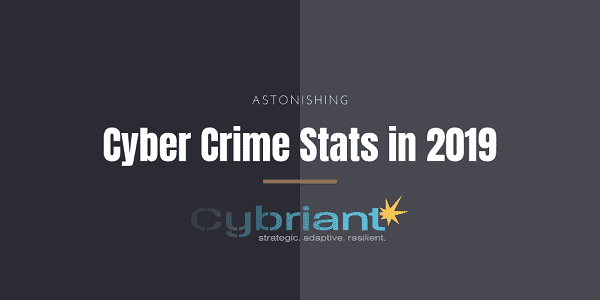 With growing use of digital technology, cybercrime has become today's reality. Cybercrime is expanding its horizons and costing businesses and governments trillions of dollars. Even the biggest multinational companies and most secure networks are not unaffected from cybercrime.
Cybercrime in form of identity theft, data breaches, etc. have become the dominant form of crimes against businesses, easily overpowering physical theft. The current article provides some of the most pertinent statistics pertaining to different types of cybercrimes, their costs to the victims, and overall impact. 
We've collected the top 2019 cybercrime statistics based on the type of breach, take a look. 
2019 Cybercrime Statistics
Ransomware
Ransomware is a type of malware which infects computers and restricts their access to files, threatening permanent data destruction, unless a ransom is paid.
In 2016, a business fell victim to ransomware every 40 seconds. It is estimated that businesses will fall prey to ransomware every 14 seconds in 2019 and 11 seconds in 2021. 
Global cost of ransomware is predicted to reach $11.5 billion in 2019 and $20 billion by 2021.
Spam and phishing emails are responsible for 66% of ransomware infections globally and nearly 48% of organizations were affected by ransomware in the year 2017.
DoS and DDoS Attacks
Denial of Service (DoS) and Distributed Denial of Service (DDoS) attacks are becoming common form of cybercrime globally and is  a major attack in these 2019 cybercrime statistics.
Both these attack form focus on flooding a resource or targeted system to take it down and make it inaccessible to the users. Internet of Things (IoT) devices are generally compromised by the hackers and added to botnets and then used to launch DDoS attacks.
There will be approximately 20.40 billion number of IoT devices in the market by 2020, which can be used to launch DDoS attacks.
A typical DDoS or DoS attack can cost an enterprise company in excess of $2 million and up to $120,000 for small companies. China accounted for 50.43% of the total global DDoS attacks in 4th quarter of 2018.
It was followed by the US and Australia which faced 25% and 4.50% of the total DDoS attacks in the world during the same period.
Malware Attacks
It is estimated that 1 out of every 50 emails contain malicious content.
According to Symantec's ISTR 2019 report, the use of malicious PowerShell scripts has increased by 1,000% in 2018. The number of mobile malware increased by 33% in 2018.
In the year 2018, 48% of all the malicious email attachments are MS Office files having filename extensions like ".doc" and ".dot". Email is the most common medium for such malware attacks and was responsible for spreading 92% of these malware in 2018.
69% of such spam emails try to lure the users into clicking and visiting malicious links, while 31% of such emails use attachments.
In 2018, 93% of the malware observed was polymorphic, meaning it had the ability to constantly change its code to avoid being detected.
Malware are a consistent form of breaches, especially in our 2019 cybercrime statistics. 
Phishing Attacks
Phishing attacks are perhaps the most common form of cyber attacks against systems. It is estimated that 91% of cyber-attacks of any form start with phishing emails.
Reports indicate that phishing attacks which replicate Software-as-a-Service (SaaS) platform experienced an increase of 237% in the year 2017.
The Federal Bureau of Investigation (FBI) reported that between 2013 and 2018, businesses have lost $12.50 billion due to such attacks.
The US is worst affected by these phishing attacks as 86% of the total phishing attacks have targeted US victims. In 2018, 83% of the total global information security respondents experienced phishing attacks.
Data Breaches and Leaks
With growing cybercrime, data breaches are becoming more regular. In January 2019 itself, personal and sensitive data of 1.76 billion users was compromised and leaked. In addition to this, 540 million user's data was exposed in a breach on Facebook in 2019.
Marriot's Starwood Guest Database was also accessed by hackers and personal information of more than 340 million US consumers and businesses was exposed. In India, the personal information of nearly 1.5 billion people was exposed in a large-scale data breach of the country's ID database in March 2018.
It is also estimated that 39% of all the global data breaches were caused by ransomware. Many times, the victims do not realize immediately that their data has been breached.
Studies have revealed that approximately 47% of data breaches in the public sector were discovered years after the initial attack.
Cryptojacking
Cryptojacking or stealing of cryptocurrencies is a growing cybercrime. In 2018 itself, $1.7 billion worth of cryptocurrency was stolen by hackers.
The value of cryptocurrency stolen from exchanges between 2012-2017 was estimated to be $15 billion. The number of hacks n cryptocurrency exchanges in 2018 were more than 3.6 times the attacks in 2017.
The growing influence of crypto miners can be assessed by the fact that they infected 10 times more organizations than ransomware in the year 2018. It is also estimated that 20% companies are hit and affected by crypto mining each week.
Cost of Cybercrime
Cybercrime has considerable costs and according to reports, 0.80% of the world's GDP is being lost to it. The total global cost of all the data breaches in 2019 till now amounts to $2.1 trillion already. 
In 2017, cybercriminals extorted about $1.5 trillion in revenues from their victims globally. Ransomware attacks alone caused a damage of nearly $5 billion to businesses in 2017. It is estimated that over the next 5 years, private companies alone stand to lose more than $5 trillion in value creation opportunities from the digital economy to cybercrime.
To put things into perspective, this is more than the economies of France, Italy and Spain combined. Over 53% of the cyber-attacks faced by companies result in an average damage of more than $500,000.
Most Vulnerable Countries to Cybercrime
According to the Imperva 2019 Cyberthreat Defense Report, Spain was the most affected country in 2018, with 93.7% of the respondents reporting successful cyber-attacks.
North America was the most popular target of cybercriminals and it reported 57% of total global data breaches in 2018.
According to a study, Americans are more worried about cybercrime than violent crimes. According to the Global Cybersecurity Index (GCI), 2017, countries like Australia, Canada, Egypt, Estonia, and Finland are leading the way for countering cybercrime.
The report states that only 38% of the countries have a documented and published cybersecurity strategy and a mere 11% have a dedicated standalone strategy.
Reduce Your Threat Landscape with PREtect