Here is a list of the top, most shocking, cyber crime statistics of 2018. You'll be amazed at what can happen when you are unknowingly unprepared…
---
"Threat is a mirror of security gaps. Cyber-threat is mainly the reflection of our weaknesses. An accurate vision of digital and behavioral gaps is crucial for a consistent cyber-resilience." ― Stephane Nappo
We work with many organizations on a daily basis that assume that they have no underlying cybersecurity issues. They purchased a tool like a SIEM and have some members of their IT team check on the SIEM in addition to their full-time duties. This is one of the biggest mistakes organizations can make.
Those organizations tend to come back to us and become clients. But that is only after the organization has been hit with a breach in one way or another. An unassuming employee clicked on a link and deployed malware (we could have prevented that with managed endpoint detection and response) or a missed patch caused a cybercriminal to find their way through their network and causes lots of damage (check out our responsive patch management).
In Cybersecurity, we are always trying to prepare for the worst.  It may be impossible to prepare for every potential attack, but you can create a foundation of security throughout your entire organization. Selecting a foundation or framework for your security strategy is something we discuss in the article, "Is My Company Secure?"
At the beginning of 2018, we posted an article, "Cybersecurity trends 2018: Cyberattacks will continue to surge," where we discussed how to learn from the cyber attacks of the past to determine the trends of the future. Here's a review of where we are today and some of the most shocking cyber crime statistics of the year so far.
Cyber Crime Statistics
1. The top two most commonly exploited applications worldwide as of the first quarter of 2018? Office and Browsers
Office accounted for 47.15 percent of exploit attacks and browsers accounted for 23.47 percent of exploit attacks.
Find more statistics at Statista
2. The FBI's list of most wanted cyber criminals has grown to over 40 including the Iranian Mabna Hackers group.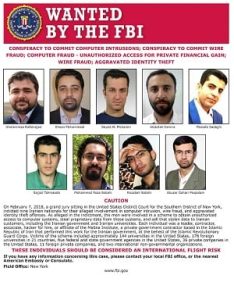 During a four year campaign, the cyber criminals used an elaborate spearphishing campaign to target the e-mail accounts and computer systems of their victims, which in addition to the universities included nearly 50 domestic and foreign private-sector companies, the states of Hawaii and Indiana, and the United Nations. This Iranian hacker group stole over 30 terabytes of data, roughly three times the amount of data contained in the print collection of the Library of Congress.
According to the FBI's article on this state-sponsored cyber theft:
"The hackers did their homework," the cyber agent said. They conducted online reconnaissance of professors to determine the individuals' research interests and the academic articles they had published. Armed with that information, they sent spearphishing e-mails to their targets—messages that appeared to be from professors at other universities.
Victim professors believed they were dealing with colleagues who had expressed an interest in academic articles. The e-mails tricked many of the professors to click on links that recorded their keystrokes when they signed into what they thought were their secure university domains but were actually bogus sites controlled by the hackers. The Iranians targeted data across all fields of research and academic disciplines, including science and technology, engineering, social sciences, medical, and other professional fields.
In addition to targeting universities, the hackers gained access to employee e-mail accounts at nearly 50 private companies around the world—the majority of them U.S. firms. Among the U.S.-based victims were academic publishers, media and entertainment companies, technology companies, and investment firms.
During that same period in 2016, the hackers also began conducting intrusions against various U.S. federal agencies and other organizations such as the United Nations. This brute force technique involves collecting lists of names and e-mail accounts through open-source Internet searches and then guessing the users' passwords, betting that some users never changed default company passwords or used common ones such as "password123."
Password spraying is such an unsophisticated technique that it can go undetected by company security networks. "They were flying under the radar," said the cyber agent who investigated the case, "and the magnitude of their effort was remarkable."
3. According to the ITRC, 37,899 consumer records have been exposed in the United States as of June 20, 2018. These exposed records are the result of 45 publicly recorded breaches.
These breaches are further broken down by industry:
Banking/Credit/Financial Industry – 3
Business – 24
Education – 2
Medical/Healthcare – 16
The Identity Theft Resource Center publishes the full list of reported breaches here. 
4. Coinmining detection has grown over 8500%
According to Symantec's 2018 Internet Security Threat Report, Cyber criminals who have been firmly focused on ransomware for revenue generation are now starting to explore other opportunities. During the past year, the astronomical rise in crypto currency values inspired many cyber criminals to shift to coin mining as an alternative revenue source. This coin mining gold rush resulted in an 8,500 percent increase in detections of coinminers on endpoint computers in 2017. Source
5. Cybercrime will create over $1.5 trillion in profits in 2018
After a year of research, Dr. Michael McGuire just released Into the Web of Profit, a landmark study about the cybercrime economy and how cybercrime will grow using stolen assets and stolen access. Conservative estimates in The Web of Profit research show cybercriminal revenues worldwide of at least $1.5 trillion. Here is a breakdown of how profitable these illicit activities actually are:
$860 billion – Illicit/illegal online markets
$500 billion – Theft of trade secrets/IP
$160 billion – Data trading
$1.6 billion – Crimeware-as-a-Service
$1 billion – Ransomware
6. 69% of organizations don't believe their antivirus can stop the threats they're seeing.
We've said it before and we'll say it again: Antivirus isn't enough to protect endpoints. Many organizations have made moves to augment their antivirus with an additional layer of advanced protection, while others have invested in endpoint detection and response (EDR) solutions in hopes of mitigating damage when attacks do get through. Some are even ripping out their antivirus altogether. Source
7. 1 Billion Bots Involved in 210 Million Fraud Attempts in Q1 2018
A global report based on actual cybercrime attacks reports that more than 210 million attempted fraud attacks occurred during the first quarter of this year, representing a 62 percent increase from 2017. 100 million of those attacks came from mobile device users. These campaigns primarily targeted e-commerce merchants. In fact, the report suggested that eCommerce transactions are now 10 times more risky than financial services Source
Thank you for reading the top 7 most shocking cyber crimes in 2018 (so far).
---
What are you cyber security challenges?
Cybriant offers continuous cyber threat detection through our 24/7 managed SIEM with security monitoring service. The problem we've found is that many clients know they need some security services, but they aren't sure where to start. If you need help with some guidance along the way, please keep us in mind.
In fact, we offer a free "Cyber Risk Analysis" will give you a professional assessment of the general health of your security program. This analysis will show you the value a Cyber Risk Assessment could provide. Our targeted questionnaire based on the NIST CSF Framework will allow our risk experts to evaluate key indicators of your security program and give you a broad look at where your organization stands.
If you already know what you need, just need to find the best cybersecurity service provider, you are in the right spot! In addition to our 24/7 managed SIEM with security monitoring service, we also offer:
Managed Endpoint Detection and Response
Real-time Vulnerability Management
Responsive Patch Management
PREtect – five necessary cyber risk services in one easy to afford solution. Find out more here: https://www.cybriant.com/pretect/
Time for a Risk Assessment?