Cybersecurity is a crucial aspect for manufacturing security in the industrial and manufacturing industry. As manufacturers move to digital platforms, this increases their cyber threat attack surface. Read on to find out how Cybriant can help create a more secure platform for manufacturers. 
Manufacturing Security Threats
In 2017, Merck, the US-based pharmaceutical giant had their manufacturing operations taken down by a ransomware attack that cost them approximately $275 million.
Manufacturers use advanced production processes that often patented and extremely valuable to those companies. Opportunistic hackers target those production processes daily. Since there are often no manufacturing security safeguards, it is not difficult for the even the most inexperienced hacker to find their way into your system.
The manufacturing sector is now one of the most frequently hacked industries. Automotive manufacturers are the top targeted manufacturing sub-industry, accounting for almost 30% of the total attacks against the manufacturing industry. Chemical manufacturers were the second-most targeted sub-industry.
As the frequency of cyberattacks increases, the manufacturing industry will remain a popular target for cybercriminals. Years of prioritizing efficiency and productivity have created gaping security holes in many manufacturing systems, leaving legacy solutions vulnerable to cyber risk. It's also difficult to modernize large manufacturing facilities. The elaborate networks manufacturers utilize are often extremely specialized, creating a very large attack surface that is nearly impossible to manage with outdated security practices.
If manufacturers continue to put off addressing their digital weaknesses, they risk becoming the victim of the next major cyberattack.
Because of the sensitive data this industry keeps, many cyber attackers go after the corporate networks where they can steal valuable and intellectual property.
Many manufacturing companies have not been held to compliance standards like the financial or healthcare industry; compliance such as Payment Card Industry Data Security Standards and The Gramm-Leach-Bliley Act, or in the case of the healthcare industry, with the Health Insurance Portability and Accountability Act. Because of this, systems are vulnerable, and risk is high.
Manufacturing Security: Start Here
To help you determine where to begin, we always suggest starting with a Risk Assessment.
Manufacturing Security: Risk Assessment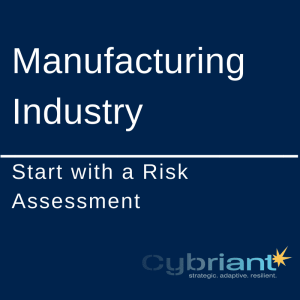 A risk assessment will create a foundation for strategic security decisions.
Cyber Risk Analysis
Our Cyber Risk Analysis will give you a professional assessment of the general health of your security program. Cybriant's complimentary Cyber Risk Analysis will show you the value a Cyber Risk Assessment could provide. Our targeted questionnaire based on the NIST CSF Framework will allow our risk experts to evaluate key indicators of your security program and give you a broad look at where your organization stands.
Cyber Risk Assessment
Our Cyber Risk Assessment is a required step when determining the needs or success of your security program. Following NIST guidelines our risk experts perform interviews, documentation analysis, and walkthrough of physical areas to determine the state of the security program of the client. Our Cyber Risk Assessment is a useful tool at any phase of implementing a security program.
GAP Analysis
Our Gap Analysis is a critical service when you are in need of identifying any deficiencies between your security program and a specific regulation or framework. Our experts will identify the minimum necessary adjustments your company must make in order to comply with the said regulation. We will also suggest changes that will also encourage a more secure environment.
Find out more: https://www.cybriant.com/assessments/
Compliance Management System
ComplyCORE is a Compliance Management System that will help reduce the hassle of compliance into a concise program. Learn how to make compliance simple.
Compliance Management System
Today's compliance environment is an overwhelming assortment of never-ending checklists and to-do items. Not only are organizations required to adhere to a standard, but there are also often many standards that a company must adhere to adding additional complexity to an already frustrating situation. Pulled in many directions, today's IT professionals often feel as they are descending into a fog of compliance.
There is also a constant stream of acronyms that businesses now must learn and adhere to be compliant. Each new entrant into the pantheon of compliance complicates and weaves an even more complex web of checklists, procedures, and policies. Each time new letters are added to our alphabet soup of regulations we must scramble to meet that specific list of requirements.
We have created a better way. Introducing ComplyCORE.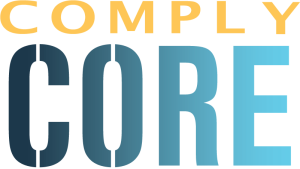 ComplyCORE reduces the fog of compliance into a clear and concise vision. With ComplyCORE as your compliance management system each new compliance matrix that springs to life is easily and quickly integrated. There is no scrambling each time an auditor for a specific regulation appears, it's all part of the plan.
Find out more at https://www.cybriant.com/compliance-management-system/
---
Manufacturing Security: Next Steps
Manufacturing Security: Managed SIEM with 24/7 Security Monitoring and Analysis
New attack vectors and vulnerabilities are discovered every day. Your organization likely has firewalls, IDS/IPS, and AV solutions installed that look for malicious activity at various points within the IT infrastructure, from the perimeter to endpoints. However, many of these solutions are not equipped to detect zero-day attacks and advanced persistent threats.
https://www.cybriant.com/managed-siem/
Manufacturing Security: Managed Endpoint Detection and Response
The underlying technology for Cybriant's EDR service is the only technology that stops over 99% of advanced threats and malware before they can execute to cause harm. It completely eliminates the need for legacy antivirus software, anti-exploit products, whitelisting solutions, and host-based intrusion detection and prevention systems.
https://www.cybriant.com/managed-edr/
Manufacturing Security: Real-time Vulnerability Management
Performing only a single vulnerability scan each year or quarter puts organizations at risk of not uncovering new vulnerabilities. The time between each scan is all an attacker needs to compromise a network. With continuous scanning, our security experts automatically have visibility to assess where each asset is secure or exposed.
https://www.cybriant.com/real-time-vulnerability/
Manufacturing Security: Responsive Patch Management
Our Responsive Patch Management solution will scan your systems, check for missing and available patches against our comprehensive vulnerability database, download and deploy missing patches and service packs, and generate reports to effectively manage the patch management process of the enterprise.
https://www.cybriant.com/managed-patch/
Manufacturing Security: PREtect
PREtect offers protection from Common Breach Vectors, including:
Social Engineering
Technical Vulnerabilities
Poor Patch Management
Compromised Endpoints
Advanced Persistent Threats
Utilizing leading technologies and seasoned security expertise, Cybriant delivers an affordable solution which addresses the most common yet challenging structural and operational security vulnerabilities. These services harden client computing environments and help reduce the risk of loss due to breach.
PREtect ensures a sound security posture as well as compliance with government regulations and industry best practices for effective information security.
https://www.cybriant.com/pretect/
Start with a Risk Assessment Today!